Trump Says He Will Open Some Migrant Detention Centers To Press In Order To Combat Fake News Reports
In a brief question and answer session with reporters before boarding Marine One on Sunday, President Donald Trump said he plans on opening some migrant detention centers to the media in an effort to prove that recent reports about the conditions in the centers are not true.
Trump began by singling out a recent report from The New York Times, published on Saturday.
In the article, the Times highlighted the conditions at the Clint Border Patrol station where disease is reportedly rampant and the building frequently filled with the cries of the children housed there.
"Outbreaks of scabies, shingles and chickenpox were spreading among the hundreds of children who were being held in cramped cells, agents said. The stench of the children's dirty clothing was so strong it spread to the agents' own clothing — people in town would scrunch their noses when they left work. The children cried constantly. One girl seemed likely enough to try to kill herself that the agents made her sleep on a cot in front of them, so they could watch her as they were processing new arrivals," the report reads.
One agent told the newspaper that agents working at the facility had been ordered to take beds away from children to make room for more kids. The article also says that leadership within U.S. Customs and Border Patrol were aware months ago that necessities such as soap and food were lacking, forcing some children to go without bathing or eating.
"What we're going to do is I'm going to start showing some of these detention centers because — to the press — I want the press to go in and see them," Trump told reporters.
Members of the press have been given tours of various facilities — including journalists who worked on the Times story the president took issue with — but photographs of the interior of the detention centers and patrol stations have not been allowed. However, Rep. Joaquin Castro smuggled a phone into one of the patrol stations during a visit with other Congressional Democrats and posted some of the photos on social media.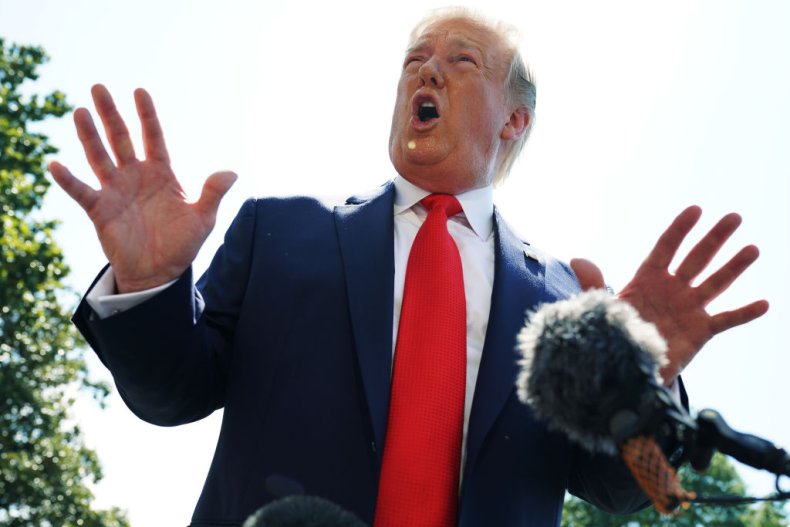 Trump did not specify if he planned to allow journalists to take photographs or video of the inside of the facilities, nor did the president indicate if he was aware that members of the media have already been granted access into some of the centers from the officials who run them.
Trump also stated that he asked members of his administration about the Times' story, and they responded that it was not true.
"We told them about a crisis," Trump continued. "They said it was manufactured and they laughed and they stopped for months. And then it turned out that it wasn't manufactured, it was a crisis. We were right about that."
"We told them that the detention centers are really full and that they've got to change the loopholes and change asylum, they have to change the immigration laws. We can do it quickly, but we have no votes to do it," Trump added, appearing to reference Democrats in Congress who have repeatedly opposed various attempts by Republicans to change immigration laws. "But the New York Times story is a fabrication."
Trump added that he spoke to people who had visited the facilities and "looked at things I saw visually" and felt that CBP was doing a great job at managing the situation as they've had to become nurses, janitors and taken on other roles because Democrats will not change immigration laws.
"In all cases, if you look, people that came from unbelievable poverty. They had no water, they had no anything where they came from - those are people that are very happy with what's going on because relatively speaking, they're in much better shape now," Trump said before adding that the Times should not be allowed to write stories like what was published on Saturday.
"I just spoke to [Acting Director of U.S. Customs and Immigration Enforcement] Mark Morgan, and I just spoke with, as you know, Kevin [McAleenan, Acting Director of the Department of Homeland Security] so we're going to send people in. We're going to have some of the press go in because they are crowded, and we're the ones who are complaining about they're crowded," Trump added.
On Sunday, McAleenan appeared on ABC's This Week and also disputed the Times report of conditions inside the Clint facility, telling co-anchor Martha Raddatz that the agency has no evidence that any of the children at the border facilities ever went hungry.
"I'm not denying that there are challenging situations at the border, I've been the one talking about it the most," McAleenan said. He also repeated a previous statement that "police station cells" are not a "good place for children."
"It's an extraordinarily challenging situation... we've been talking about this, we've been asking for help," he said, adding that 500,000 have crossed the U.S.-Mexico border since December 30, 2018.
Trump also criticized the Times' report on Twitter, prompting the newspaper to respond and stand by their reporting.
"We are confident in the accuracy of our reporting on the U.S. Border Patrol's detention centers. Here's how we reported today's front-page article on the squalid conditions at the migrant detention center in Clint, Texas," the newspaper's communications team tweeted in reply to Trump.