President Donald Trump has told a British television show that he didn't know a far-right group in the country was run by "horrible, racist people" when he retweeted their messages last November.
The president said he didn't mean to offend people in Britain by spreading their message.
"If you are telling me they're horrible people, horrible, racist people, I would certainly apologise if you'd like me to do that," Trump told ITV Good Morning Britain presenter Piers Morgan in an interview in Davos, Switzerland.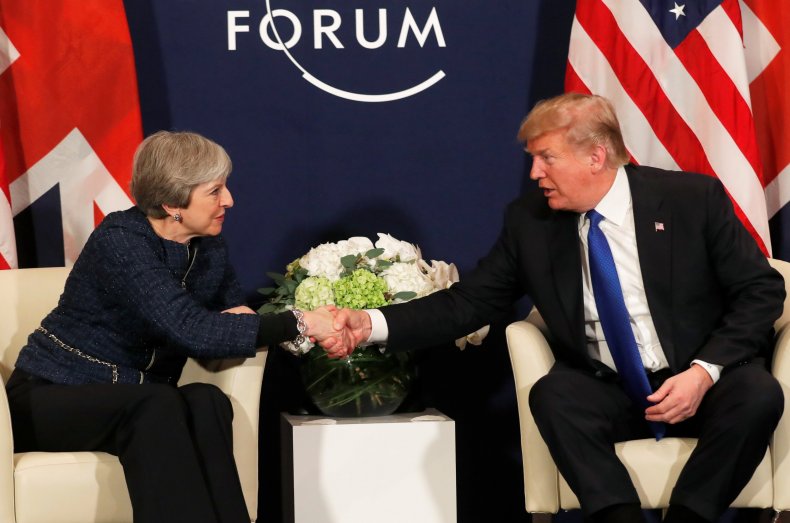 Trump said "I don't want to cause any difficulty for your country" when Morgan pressed him on whether he would apologize.
The president is currently attending the World Economic Forum in Davos and sat down with Morgan for the interview after giving a press conference with British Prime Minister Theresa May. The full interview will be broadcast Sunday, January 28.
"I am often the least racist person that anybody is going to meet. Certainly I wasn't endorsing anybody," Trump said, denying he knew anything about the background of those he was retweeting. "I know nothing about them and I know nothing about them today other than I read a little bit," he said.
Last November Trump retweeted messages on Twitter by Jayda Fransen, the deputy leader of the anti-Islam British political party Britain First. Fransen's tweets linked to several videos that had anti-Muslim overtones. A couple of the videos were debunked or questioned for being out of context.
Read more: Trump cancels London visit, Blames Obama, like always
Britain First has used social media to spread anti-immigrant messages, posting videos of their provocative stunts on YouTube and Facebook.
In the interview Trump acknowledged that not all of the three videos he retweeted were verified.
Late last November White House press secretary Sarah Sanders said that the president doesn't check everything that he tweets but that he "knew what the issues are." There is, she said, "a real threat of extreme violence and terrorism not just in this country, but across the globe, particularly in Europe."
Trump said he retweeted the messages, which contained the titles "Muslim migrant beats up Dutch boy on crutches!" and "Islamist mob pushes teenage boy off roof and beats him to death!" because he is a "big believer" in combating radical Islamic terrorism.
"I think a lot of the people in your country like what I stand for—they respect what I stand for," Trump said of his perception amongst the British public, noting that his relationship with May is "very good."
May condemned the incident last year, noting it caused "anxiety to law-abiding people." Early this month Trump cancelled his trip to the UK, citing his dislike of the new U.S. embassy in London.