Trump Says His Approval Is Higher Than Obama's, Ignoring the Polls That Say It Isn't
President Donald Trump highlighted a new poll that gave him a 50 percent approval rating, while ignoring three other polls that show him with 44 percent approval or lower, before accusing Barack Obama of "cheating" Tuesday.
"Thank you to Rasmussen for the honest polling," Trump tweeted Tuesday morning. "Just hit 50%, which is higher than Cheatin' Obama at the same time in his Administration."
The Rasmussen poll published Monday shows Trump with a 50 percent approval rating and 49 percent disapproval among voters.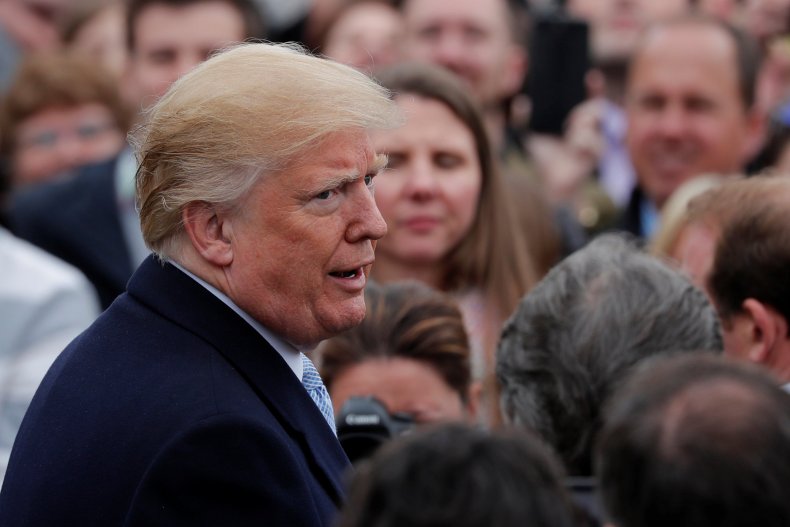 Three other polls published the same day by Gallup, Harvard, and Investor's Business Daily show the president with between 38 and 44 percent approval and 55 to 56 percent disapproval.
A combined average of polls give Trump a 41.8 percent approval and 53.2 percent disapproval rating.
Trump made a similar claim in early March. "Rasmussen and others have my approval ratings at around 50%, which is higher than Obama, and yet the political pundits love saying my approval ratings are 'somewhat low,'" he tweeted March 11.
It was not clear what Trump meant by "Cheatin' Obama." In Gallup polling from March 28 to April 3 in 2010, around the same time as in Trump's presidency, Obama's approval rating sat at 49 percent approval to 44 percent disapproval.
Read more: Trump claims he's more popular than Obama, tells voters to ignore low approval ratings
Rasmussen polls from around the same time had Obama's approval at around 47 percent and disapproval at 53 percent. A Fox News poll from early April 2010, however, had Obama's approval at 43 percent and disapproval at 48 percent.
A combined average of polls for Obama on April 2, 2010, gave him a 47.8 percent approval rating to to 45.9 disapproval.
Trump told voters in March to ignore all the other polls beside Rasmussen, which has consistently returned more favorable results for him than other polls.
Television anchors that talk about other polls on their networks, he wrote, "know they are lying when they say it. Turn off the show—FAKE NEWS!"