Trump Says Hispanics Will Start 'Falling in Love' With Him and Republicans Over DACA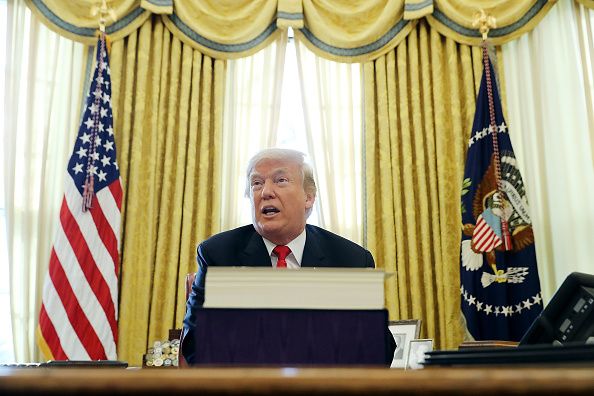 President Donald Trump said Tuesday that Democrats are not doing anything to fix the Deferred Action for Childhood Arrivals (DACA) program, adding that activists and Hispanics will start "falling in love" with Republicans.
"Democrats are doing nothing for DACA – just interested in politics. DACA activists and Hispanics will go hard against Dems, will start 'falling in love' with Republicans and their President!" Trump tweeted.
In December, activists said Congress was not doing enough to enact the Development, Relief and Education for Alien Minors Act by the end of 2017. As a result, Congress this month is trying to settle the dispute on the future of that Obama-era proposed program, which offers many of the same protections as DACA. If approved by Congress, the DREAM Act would allow immigrants who were brought here to the U.S. as children, known as "Dreamers," to stay in the country to work and go to school.
On Wednesday, congressional leaders from both parties are set to discuss the DACA program during a meeting. Democrats like Nancy Pelosi had said they did not plan on leaving Washington for the holiday break without a solution in place for DACA, but Congress agreed to tackle the issue in the beginning of 2018.
Last week, Trump tweeted that "there can be no" immigration deal without his border wall and an end to chain migration and the State Department's Diversity Visa Lottery program.
"The Democrats have been told, and fully understand, that there can be no DACA without the desperately needed WALL at the Southern Border and an END to the horrible Chain Migration & ridiculous Lottery System of Immigration etc. We must protect our Country at all cost!" Trump tweeted.
The Mexican government has previously said it would not pay for the border wall, but Trump still claims it is coming. In an interview with The New York Times last week, Trump explained that there could not be a DACA fix without the border wall.
"Look, I wouldn't do a DACA plan without a wall," Trump told the Times. "We need it. We see the drugs pouring into the country, we need the wall."
The Trump administration announced it would end the DACA program in September, giving Congress only six months to come up with a solution. Organizations like the American Civil Liberties Union tweeted in response to his comments on Tuesday, reminding Trump that he was the one who decided to end the program in the first place.
In November, thousands of immigrants and advocates occupied the Senate Hart Building, calling on lawmakers to pass the DREAM Act. About 1 million recipients will lose their protection from deportation if Congress does not pass the DREAM Act. Meanwhile, the DACA program is set to expire in March.
The legislation is favored by more than 85 percent of Americans, according to a Washington Post/ABC News poll.