Trump Says Hydroxychloroquine 'Would Be the Hottest Thing' if He Had Not Endorsed It to Treat COVID
President Trump said hydroxychloroquine "would be the hottest thing" had he not endorsed the anti-malaria drug as a treatment for COVID-19.
"If I would have said, 'I don't believe in it. It doesn't work,' it would be the hottest thing going right now," he said Tuesday morning.
In an interview on sports radio show Outkick, Trump told host Clay Travis that the drug "causes no problem," citing his own use of hydroxychloroquine as a preventive measure against the virus in May.
"As soon as I came out with it, they said 'Oh, it doesn't work.' They went crazy," Trump added, "They still are. On Twitter, it's number one all the time."
Trump said that Democrats oppose everything he does, specifically hydroxychloroquine and religion.
The president referred to his appearance at St. John's Episcopal Church in Washington, D.C., amid George Floyd protests earlier this summer. On June 1, law enforcement officers used tear gas on protesters in Lafayette Square to clear the park in order to create a path for Trump to walk toward the church, where he held up a Bible to pose for a photo op.
"I held the Bible up in front of the church. They said it was a terrible thing I did," Trump said. "So I said, 'I even affect religion negatively'."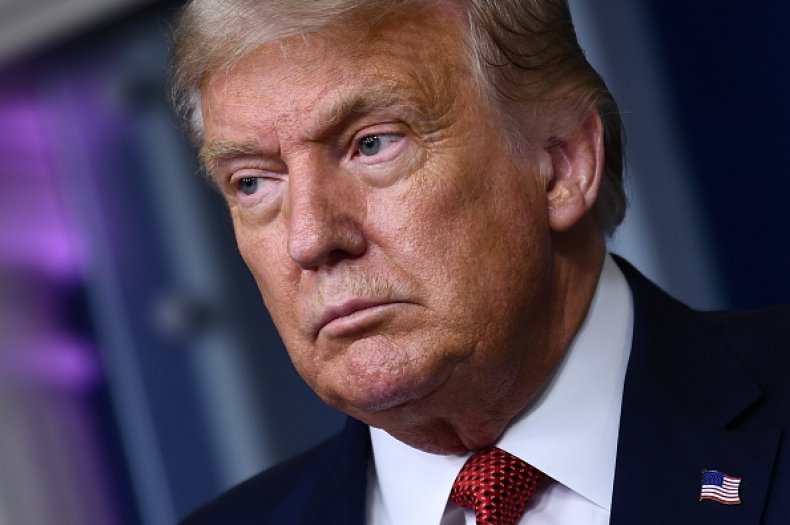 Trump also pushed for professional sports to resume amid the coronavirus pandemic. However, he specified that he only supported the reopening of leagues if players will not kneel in protest during the national anthem—a political move many professional players have adopted in support of NFL player Colin Kaepernick and the Black Lives Matter movement.
"If they don't stand for their flag and stand strongly, I would be very happy if they didn't open," he said about the NFL, which is scheduled to reopen on September 10 between the Houston Texans and Kansas City Chiefs.
"They can protest in other ways. They shouldn't protest our flag or our country," Trump added.
The president pointed to the NBA's efforts in supporting the Black Lives Matter movement, calling the league's rebranding "horrible for basketball."
When asked if it's hypocritical that the NBA has failed to comment on the political situation in China, Trump called it "a disgrace."
"The way they cater to China, the way they bowed to China, it's a disgrace, frankly. They make a lot more money here than they do from China, but we have a system that allows you to disrespect your system and that's too bad for them. They don't appreciate what they have here," he said.
Colleges have also begun making decisions on whether or not sports will return this school year. The president said college football would be making a "tragic mistake" to not comeback this fall, saying that young football players "aren't going to have a problem" because the virus attacks older people.
"You're not going to see people dying," he said.
Data from the U.S. Centers for Disease Control and Prevention has shown a greater number of hospitalizations among younger people in recent months.
During the interview, Trump also criticized presumptive Democratic nominee Joe Biden for promising to select a woman to be his running mate, saying that "men are insulted" by his decision.
However, Trump said he doesn't think it will matter who Biden picks and that Biden will "have to stand on his own two feet."
Newsweek reached out to the White House for comment but did not hear back before publication.