'Sorry Men:' Trump Says Women Are Smarter at Final Rally With Ivanka, Kellyanne and Sarah
President Donald Trump told the crowd at a campaign rally Monday night in Missouri that he "always thought" women were smarter than men.
The president invited high-profile female members of his administration to join him on stage at a final rally in Cape Girardeau before Americans go to the polls Tuesday for the midterm elections. The women were his daughter and adviser Ivanka Trump, White House press secretary Sarah Huckabee Sanders and adviser Kellyanne Conway, as well as Republican National Committee Chairwoman Ronna McDaniel.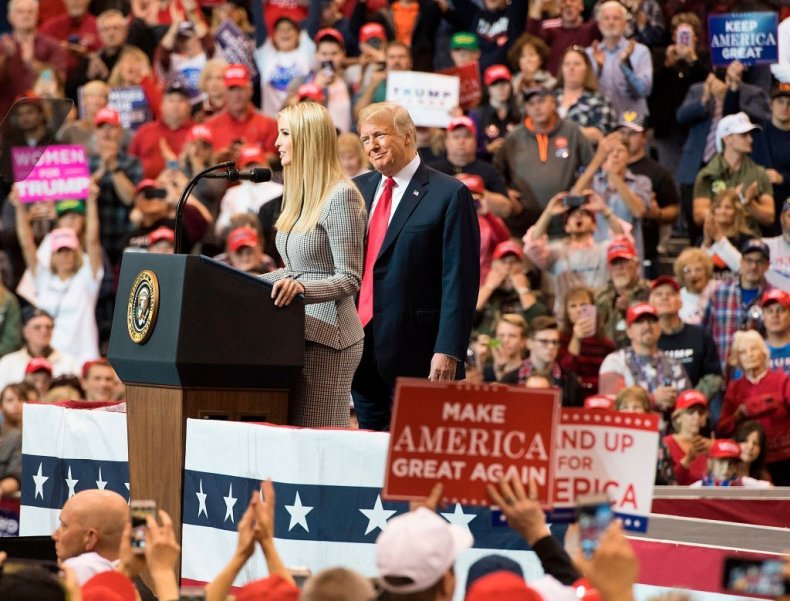 "I've always said that women are smarter than men—sorry, men.... They work hard for us," declared the president.
It was the first time this campaign that all four women appeared at a campaign rally with Trump, in a move seemingly designed to strengthen his support from female voters.
Trump has long faced accusations of misogyny. On the campaign trail, he trolled TV host Megyn Kelly with sexist abuse and boasted about sexually assaulting women in an infamous Access Hollywood tape, with several women subsequently coming forward with accusations of sexual assault against him.
The president has criticized the intelligence of female critics, describing Democratic Representative Maxine Waters as "low IQ" and attacking a female ABC News reporter's intelligence at a White House news conference in October.
According to the latest NPR/PBS NewsHour/Marist poll, 49 percent of women disapprove of Trump's performance, compared with 44 percent of men. An October Washington Post/Schar poll found that college-educated white women favored Democratic candidates by 62 percent to 35 percent.
A CNN poll Monday showed Democrats ahead in the race to control the House by 55 to 42 percent, owing to support from female, black and Hispanic voters.
Earlier, Ivanka Trump, Conway and Sanders had joined the president as he crisscrossed the country rallying support for Republican candidates.
Conway and Sanders had joined the president on stage at an Indiana rally.
Sanders, who fields questions from the press at media briefings, quipped at an Indiana rally that she wasn't used to "friendly crowds."
She thanked the president for the "privilege of a lifetime" to "work in your historic administration and to do incredible things and to literally change the course of our country.
"A lot of people know me in my official capacity, and it's one of the greatest honors of my life to serve in your administration, and one of the most important jobs I'll ever have," Sanders told the president.
"But the greatest job I'll ever have, and the greatest title I'll ever have, is that of a mom. And that's why I work for this president, because I care about my kids' future, and I care about the future of this country," she added.
At an earlier rally in Cleveland, Ohio, Ivanka Trump joined the president on stage, and he commented he couldn't describe his daughter as "beautiful" anymore because it's "politically incorrect" and had to settle for "smart" instead.