Trump Says Jan. 6 Committee 'Destroying Democracy' to Keep Him From Running
Former President Donald Trump is accusing the House Select Committee to Investigate the January 6th Attack on the U.S. Capitol of "destroying democracy" to keep him from launching a new presidential campaign.
Trump made the claim one day after the committee accused him of taking part in a "criminal conspiracy" to overturn President Joe Biden's 2020 election win. The former president repeated several false claims about the election being "stolen" on Thursday, insisting that the "actual conspiracy to defraud the United States was the Democrats rigging the Election" and an effort to "cover it up."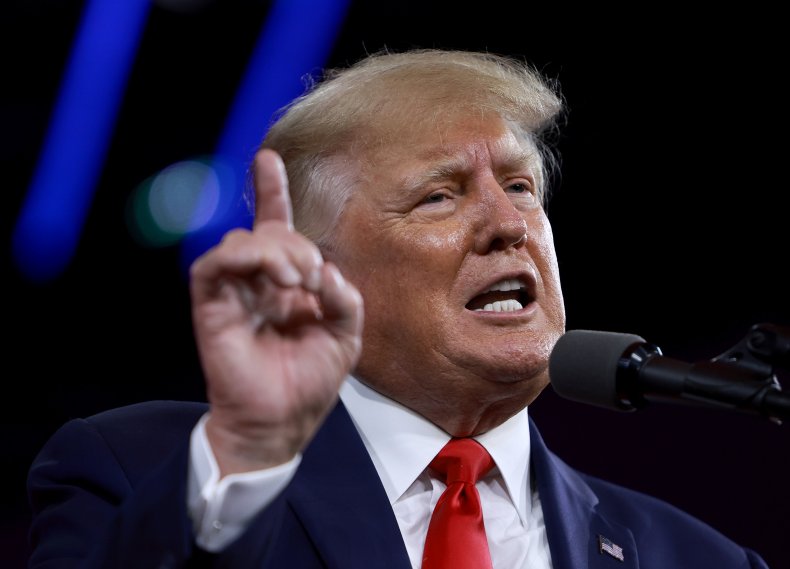 "The Unselect Committee's sole goal is to try to prevent President Trump, who is leading by large margins in every poll, from running again for president, if I so choose," Trump said in a statement. "By so doing they are destroying democracy as we know it."
"Their lies and Marxist tactics against political opponents will not stop the truth, or the biggest political movement, Make America Great Again/America First, in the history of our Country," he continued.
A court filing by committee attorneys on Wednesday argued that "evidence supports an inference" that Trump, his lawyer John Eastman and others took part in a conspiracy to defraud the U.S.
The plot allegedly included Trump "interfering with the election certification process, disseminating false information about election fraud, and pressuring state officials to alter state election results and federal officials to assist in that effort."
The filing was in response to a lawsuit filed by Eastman, which seeks to block a committee subpoena that would force him to provide documents relevant to the January 6 attack investigation.
Trump has claimed on multiple occasions that the "real insurrection" was not rioters attempting to stop Congress from certifying Biden's win on January 6, but instead a massive conspiracy for a "rigged" election, which is not supported by credible evidence.
In Thursday's statement, the former president said that the riot took place because "millions of people in our Country know the Election was Rigged and Stolen" and because House Speaker Nancy Pelosi (D-Calif.) "refused" to deploy over 10,000 troops as he had "strongly recommended," despite her not having the authority to deploy troops.
Trump also took aim at former U.S. Attorney General Bill Barr in the statement, claiming that Barr was "so petrified of being held in contempt or being impeached by the Democrats" that he became "virtually a broken man who allowed for the systemic violation of election laws and other things to take place."
In a portion of an NBC interview with Barr that was released the same day, the former attorney general described the moment that he decided to resign from the Trump administration, during a White House confrontation where he informed the outgoing president he had investigated election fraud claims and found them to be meritless.
"I told [Trump] that all this stuff was bulls***...about election fraud," Barr said. "He was obviously getting very angry about this. I said, 'OK, I understand you are upset with me, and I'm perfectly happy to tender my resignation.' And then, boom, he slapped the desk and he said 'accepted!'"
Newsweek reached out to the offices of Trump and January 6 committee chair Representative Bennie Thompson (D-Miss.) for comment.