Former President Donald Trump was back on the Saturday endorsement trail with another rally, this time in Ohio. Trump, like he typically does at his rallies, went through an array of topics before his endorsements began. Those ranged from Biden to the economy, the border, the Russia-Ukraine war, the media, the 2020 election and folks he doesn't like.
Saturday night in the town of Delaware, Ohio, he was there to endorse J.D. Vance for the U.S. Senate. Trump acknowledged that Vance in the past has said some unlikeable things about him as well. The former president even through in a curse word that slipped through TV censorship.
"You know what, he's a guy who said some bad sh*t about me," Trump said. "But you know what, every one of the others did also. In fact, if I went by that standard, I don't think I would have ever endorsed anyone in the country."
Trump a little more than a week ago released a statement that said he was aware of criticism Vance had toward him in the past.
"It is time for the entire MAGA movement, the greatest in the history of our Country, to unite behind J.D.'s campaign because, unlike so many other pretenders and wannabes, he will put America First. In other words, J.D. Vance has my Complete and Total Endorsement," Trump said.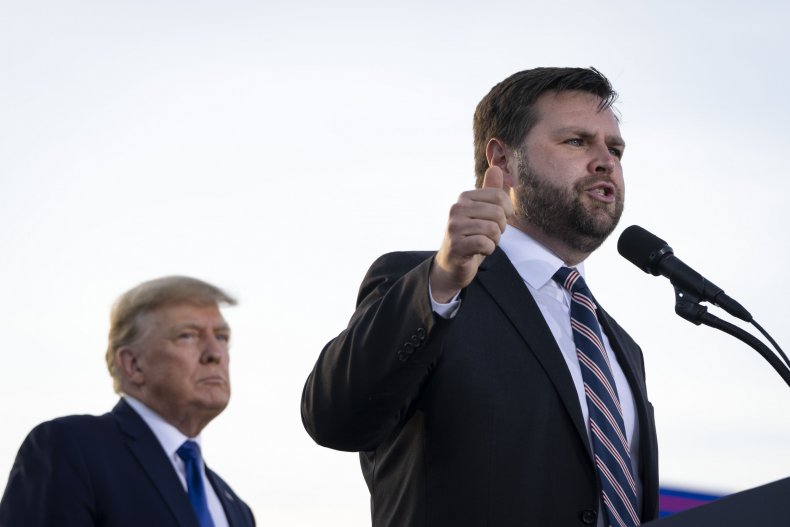 Trump's endorsement of Vance, a former marine, has many of the Ohio GOP split on his decision. Many Ohio delegates for Trump in 2016 formulated a letter saying they felt "betrayed" by the endorsement of Vance.
"While we are aware of the blowback you are receiving from your supporters for your endorsement of Vance—please understand we are not your typical Republicans in Ohio," it read in the letter obtained by Fox News. "We are the original and proud 'Trumpers' who served as your delegates in Ohio when everybody was against you or supporting other candidates."
"You trusted us in 2016 to do what was best for Ohio," the letter further stated. "We would respectfully request you reconsider your endorsement of JD Vance to show your supporters in Ohio and across our great states why we first believed in you back in 2016."
The conservative group Committee for a Better Ohio said they believe Trump is "out of touch" and disconnected with its state Republicans.
"For him to endorse J.D. Vance really seemed like President Trump was out of touch with what's going on in Ohio and what his supporters here want," said Tom Zawistowski, CEO of the group.
When Trump brought Vance onto the stage Saturday night, the crowd seemed to give him a rousing applause.
Vance called Trump "the greatest president of my generation" before echoing many of Trump's political ideals.
Vance will face former state treasurer Josh Mandel in the primary. Early voting began on April 5 and will continue through May 2. The primary election day is Tuesday, May 3 in the Buckeye State.