Trump Says Jewish People 'Don't Love Israel Enough' Amid Complaint About Lack of Support
Months after the presidential election, former President Donald Trump said he remains surprised that he didn't get greater support from Jewish voters, given the work he did to move the U.S. embassy to Jerusalem.
Throughout his presidency, Trump portrayed himself as a loyal supporter of Israel and bolstered his administration's work in fostering pacts between Israel and Gulf states. While the hope was that his actions would drive support with Jewish voters, his alignment with Israel wasn't enough to sway Jewish voters to support Republicans.
In an interview with Ami Magazine, an international publication that's geared toward the Orthodox Jewish community, Trump said he was "surprised" about the lack of Jewish votes he received.
"I did the Heights, I did Jerusalem, and I did Iran—the Iran Deal was a disaster, right?" Trump said. "Jewish people who live in the United States don't love Israel enough."
This isn't the first time Trump took issue with the perceived lack of support for Israel among Jewish people in America. In 2019, during a speech at the Israeli American Council Summit, Trump said there are Jewish people that are "great" but they "don't love Israel enough."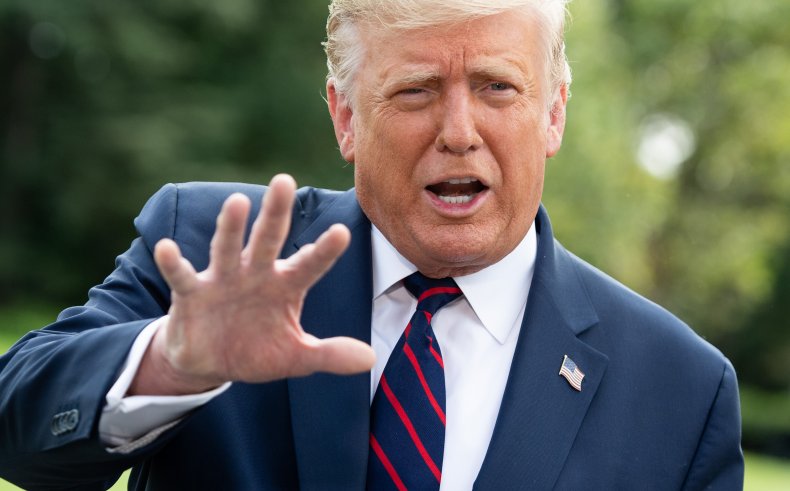 While his remarks elicited applause from attendees, the speech was criticized by other Jewish groups for being rife with anti-Semitic tropes and equating support for Israel with being Jewish. A few months earlier, Trump came under fire for saying that he thought Jewish people who voted for Democrats demonstrated a "total lack of knowledge or great disloyalty."
"American Jews ― like all Americans — have a range of political views and policy priorities," American Jewish Committee CEO David Harris said at the time. "His assessment of their knowledge or 'loyalty,' based on their party preference, is inappropriate, unwelcome and downright dangerous."
With Trump only narrowly winning some battleground states in 2016, losing support among Jewish voters was a recipe for a loss in the 2020 election. In the months leading up to the election, the Trump campaign launched a Jewish Voices for Trump initiative to focus on Trump's support for Israel. Former Trump White House aide Boris Epshteyn propped Trump up with his support of Israel, calling him the "greatest ally" the Jewish state ever had, and the former president earned praise among Jewish people for his work in the Middle East.
However, not everyone was convinced Trump could win over Jewish voters with his policies on Israel. Halie Soifer, executive director of the Jewish Democratic Council of America, who led Jewish voter outreach for former President Barack Obama's 2008 campaign in Florida, told the Associated Press Republicans and Trump tend to wrongly treat Jewish voters as "monolithic" and "one-issue voters."
In 2016, Jewish voters overwhelmingly turned out for Democratic candidate Hillary Clinton, according to Pew Research. There hasn't been a comprehensive analysis of the 2020 election, yet, but polling from around Election Day showed President Joe Biden maintained the hold on Jewish voters. However, when it comes to the Orthodox Jewish community, Trump had strong support in the election, according to J Street, a nonprofit liberal advocacy group.
Trump acknowledged his support among Orthodox Jews during his interview with Ami Magazine, but said his low overall support "doesn't make sense." "It seems strange to me," the former president added.
Newsweek reached out to former President Donald Trump for comment but did not receive a response in time for publication.