Trump Says Kamala Harris as Vice President Would be an 'Insult' to America
During a Tuesday campaign event in Winston-Salem, North Carolina, President Donald Trump set his sights on Democratic Vice-Presidential candidate Senator Kamala Harris of California.
Trump has previously praised Harris, describing her as his "number one" for winning the Democratic candidacy early on in the race. According to the president, Harris's bad poll numbers during the 2020 election which he described as a "free fall," were a signal of Harris's lack of popularity.
"People don't like her," Trump said. "Nobody likes her. She could never be the first woman president, she could never be. That would be an insult to our country."
Trump also described Harris as further politically left-leaning than Vermont Senator Bernie Sanders. "You remember she left the race," the president said. "Sort of interesting they picked her because in theory they should be able to win California."
Trump then said that perhaps his campaign should "make a play for that state."
Newsweek reached out to the Biden-Harris campaign for comment. This story will be updated with any response.
Minutes after Harris was announced as Democratic presidential candidate Joe Biden's running mate, Trump's re-election campaign released an advertisement describing Harris as a "phony" and as a member of the "radical left."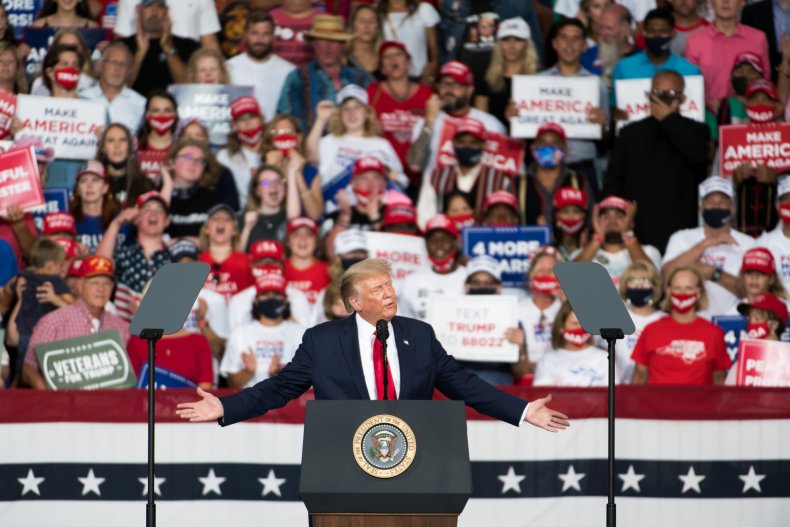 Trump has painted the Democratic ticket as one that would cause nationwide unrest and chaos, alleging that Biden is in favor of defunding the police. The president has described himself as "your president of law and order" and has gained the endorsement of many police unions across the country.
"You can vote for a candidate backed by violent left-wing rioters if you have to or vote for a candidate backed by selfless law enforcement heroes," Trump said on Tuesday.
Protests against systemic racism in police culture have been taking place across America since May following the death of George Floyd while in Minneapolis police custody. Trump authorized federal response to some of the cities where demonstrations have taken place.
National Guard units were authorized to enter Kenosha, Wisconsin by Governor Tony Evers after the August shooting of Jacob Blake sparked demonstrations in the city. Blake was shot by a police officer in Kenosha as Blake attempted to enter his vehicle. Blake's children were waiting in the car when the shooting occurred. Blake survived but was left paralyzed from the waist down.
Harris told reporters that she had spoken to Jacob Blake and his family. "I mean, they're an incredible family," Harris said Monday during a campaign stop in Wisconsin. "And what they've endured, and they just do it with such dignity and grace. And you know, they're carrying the weight of a lot of voices on their shoulders."
During President Trump's visit to Kenosha, he praised law enforcement officers for quickly ending the unrest. Trump also blamed the violent episodes present in some demonstrations on "radical ideology."
"Reckless, far-left politicians continue to push the destructive message that our nation and our law enforcement are oppressive and racist," Trump said in September. "They'll throw out any word that comes to them."