Trump Says Kavanaugh Is 'One Of The Finest Human Beings' With An 'Impeccable Reputation'
President Donald Trump had strong words of praise for his Supreme Court pick Brett Kavanaugh on Thursday night, as the judge faces intense scrutiny after being accused of sexually assaulting a woman when both were teenagers in the 1980s.
"I'm not saying anything about anybody else, but I want to tell you that Brett Kavanaugh is one of the finest human beings you will ever have the privilege of knowing or meeting," Trump said during a rally in Las Vegas.
The U.S. leader praised the Supreme Court nominee as having "great intellect" and being a "great gentleman" with an "impeccable reputation."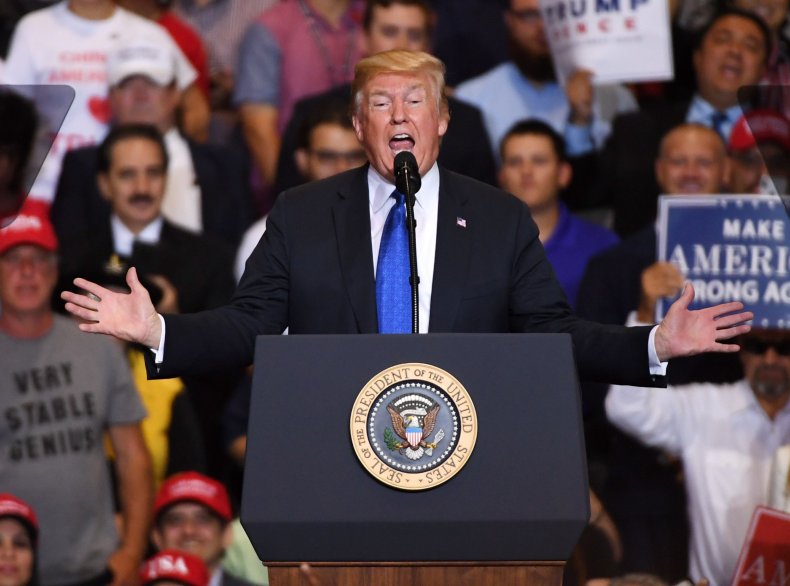 It is Kavanaugh's reputation, however, that has come into question, after Palo Alto University Professor Christine Blasey Ford accused the judge of sexually assaulting her at a house party in the summer of 1982, when both were still in high school.
"We got to let it play out, but I want to tell you, he is a fine, fine, fine person," Trump said. "And he's got tremendous support, I can tell you that."
"Just like Neil Gorsuch, who's now on the Supreme Court," the president continued, referring to Associate Justice Gorsuch's appointment to the Supreme Court after being nominated to succeed the late Antonin Scalia.
"So we'll let it play out and I think everything's going to be just fine. This is a high quality person" Trump said of Kavanaugh.
The Supreme Court nominee has denied Ford's allegations against him, calling them "completely false."
Both he and Ford are still scheduled to testify before the Senate Judiciary Committee on Monday, despite doubts over whether the hearing will happen, after Ford's legal team requested that the FBI launch an investigation into their clients claims before she speaks with committee members.
Senate Judiciary Chairman Chuck Grassley has requested that Ford respond to committee's request for her testimony on Monday by 10a.m. Friday.