Trump Says LeBron James 'Becoming a Woman' Would Make Him a Great Coach
There seems to be no love lost between former President Donald Trump and basketball superstar LeBron James. On Saturday night during a speech, Trump said he'd try to coax James into playing for him if Trump were the coach of a basketball team.
If James were a woman, that is.
Trump used his time at Turning Point USA's (TPUSA) Student Action Summit in Tampa to take a jab at men participating in women's sports. He used previous examples of men winning women's events and expressed his opinion on how he thought it was wrong, in which he got a rousing applause.
The former president said that if he were a women's basketball coach, he would be "the greatest of all time" since he could go after the services of male athletes.
"If I were a basketball coach of the women's team, I would be the greatest coach of all time. I'm not a fan of Lebron James at all, I don't like him, but I say 'Lebron, did you ever think of becoming a woman? Did you ever because I'd like to have you on my team,'" Trump said. "I'd love to have you on our team Lebron. But, think of it it's so crazy what's happening."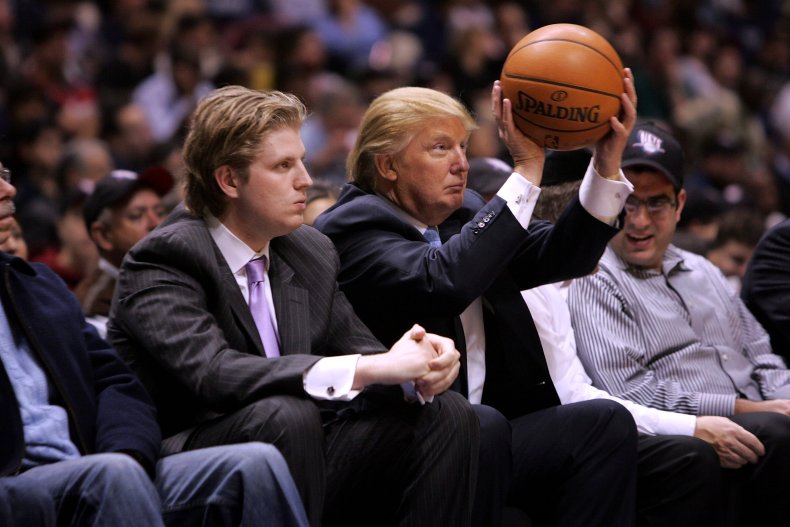 Trump's speech at the TPUSA summit comes during the same summer as his state-to-state tour of endorsing candidates at rallies. Earlier this year in Nebraska, Trump took another swipe at James while talking about the NBA superstar potentially becoming a transgender woman.
"I'll say this to LeBron James, who I don't like very much," Trump said on May 1. "I'll say, 'LeBron, did you ever have thoughts about going woman? Because if you did I'd love to have you on my basketball team.'"
The feud also goes back to the Jan. 6 Capitol riots when James spoke out against the insurrection in Washington, D.C., by protesters who voiced their displeasure about the 2020 presidential election.
"We live in two Americas and that was a prime example of that yesterday," James said at the time. "If you don't understand or see that then you need to take a step back. Not just one step but four or five or even 10 steps backward. How do you want your kids or grandkids to live in this beautiful country? Because yesterday was not it."
The Trump-James bickering also goes back to April of 2021 when Trump called James "racist" and "divisive" for remarks James made in a since-deleted tweet about the police killing of 16-year-old Ma'Khia Bryant.
James had tweeted a photo of Nicholas Reardon, a police officer who was accused of killing Bryant in Columbus, Ohio. Accompanying the photo was the text: "you're next #accountability."
Bryant's death happened within a few hours of the guilty verdict of Derek Chauvin's murder of Gerge Floyd.
"I took the tweet down because its being used to create more hate. This isn't about one officer. it's about the entire system and they always use our words to create more racism. I am so desperate for more ACCOUNTABILITY," James tweeted in a follow-up.
In August 2020 during the midst of the COVID-19 pandemic and presidential election, Trump said James wasn't good at basketball.
"I've seen LeBron James on TV, and, quite frankly, I don't think he's very good at basketball," Trump said, according to The New Yorker. "The media is very unfairly biased in favor of him because he's a Democrat, and I think it's a disgrace.
"You look at LeBron and sometimes when he shoots the ball, it doesn't go into the basket," Trump said. "If I try to drink a glass of water and miss my mouth, it's all CNN talks about."