Trump Says Magazine Owner Should Be 'Ashamed' of Biden Campaign Donations
President Donald Trump said Monday that co-owner of the Atlantic magazine, Laurene Powell Jobs, should be "ashamed" about her donations to the presidential campaign of Democratic nominee Joe Biden.
Jobs, the widow of Apple co-founder Steve Jobs, allegedly donated $500,000 during the second quarter of 2020 to Biden's campaign. The Atlantic has published articles criticizing Trump's behavior, including a September story which alleged that Trump referred to members of the U.S. military who were killed in action as "losers." Trump went on the offensive against both Jobs and the magazine on Twitter in response to a September tweet by podcast host Charlie Kirk, who contributes opinion pieces to Newsweek.
"The widow of Steve Jobs—Laurene Powell Jobs donated at least $500,000 to Joe Biden's campaign this year," Kirk wrote. "Do you know who owns a majority stake in The Atlantic? Laurene Powell Jobs."
"She should be ashamed of herself!" Trump tweeted Monday.
Trump also lashed out at Jobs in September, tweeting that "Steve Jobs would not be happy that his wife is wasting money he left her on a failing Radical Left Magazine."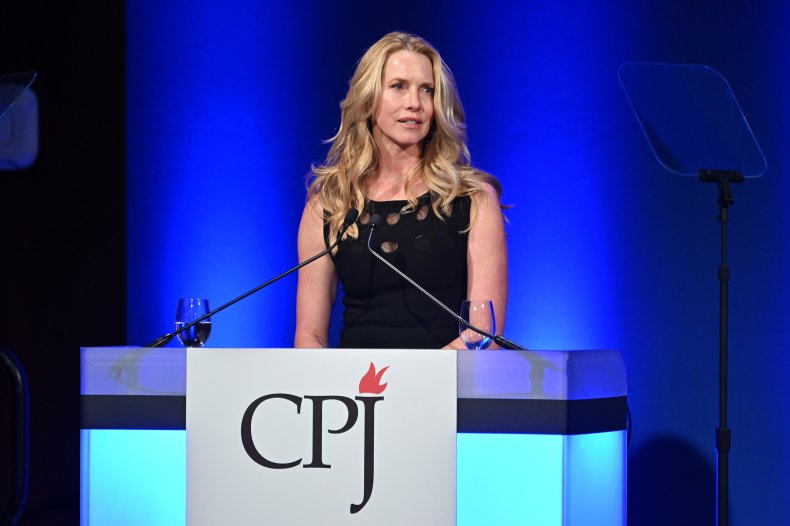 Jobs became co-owner of the Atlantic in 2017 after the Emerson Collective, an organization founded by Jobs, obtained a majority stake in the magazine. Newsweek reached out to the Emerson Collective for comment.
Trump's alleged comments about U.S. military members who were killed in action created a firestorm of controversy. Trump reportedly canceled a trip to a U.S. military cemetery in France in 2018. "Why should I go to that cemetery?" Trump allegedly said. "It's filled with losers."
President Trump denied making the statements about the military during a September news conference. "It's a fake story and it's a disgrace that they're allowed to do it," Trump said. Trump also referred to the soldiers as "absolute heroes."
Some members of the Trump administration spoke out in the president's defense. "I think this president has enormous respect for the military and for the generals," U.S. Treasury Secretary Steven Mnuchin said in a September interview with Fox News. "This president respects and supports the U.S. military."
Biden's campaign released an advertisement in September, decrying Trump's alleged comments. "If you don't respect our troops," the campaign ad said, "you cannot lead them."
During a September campaign event in Delaware, Biden said that if the allegations made in the Atlantic article were accurate, then "it's disgusting. And it affirms what most of us believe to be true, that Donald Trump is not fit to do the job of president, to be the commander in chief."
Comments for the Atlantic story were gleaned from anonymous sources, an outlet which President Trump has long criticized as being a part of "fake news."
"Lamestream Media should be forced to reveal sources, very much as they did in the long ago past," Trump tweeted in March. "If they did that, the media would be trusted again, and Fake News would largely be a thing of the past!"