Trump Says Military Is Prepared to Deliver 200,000 Coronavirus Vaccine Doses a Day
President Donald Trump is throwing the full weight of the federal government behind a new coronavirus vaccine, including deploying the military to expand access.
Trump championed his administration's response to the new coronavirus pandemic during Tuesday's debate with Vice President Joe Biden, including being "weeks away" from a vaccine. He defended his timeline against pushback from the debate moderator Chris Wallace, saying that an inoculation could be proven effective by November 1 and delivered "right away."
That deliverance will be aided by the military, that Trump said was "logistically all set up." By using soldiers to help people access the vaccine, the president said they can deliver "200,000 a day."
Newsweek reached out to the White House for clarification on how the military will be utilized to deliver the vaccine but did not receive a response in time for publication.
Having an effective vaccine before the end of the year would be a record pace for development and Trump is pushing for an answer before Election Day. It's a timeline that Albert Bourla, the CEO of Pfizer, one of the companies developing a vaccine, supports but several experts called into question.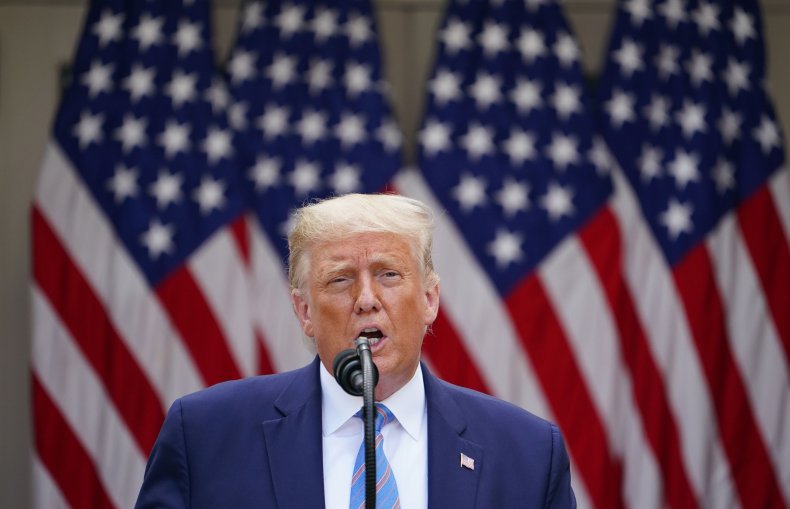 Dr. Robert Redfield, the head of the Centers for Disease Control and Prevention, told a Senate committee 700 million doses could be available by late March or early April. However, it would likely be May, June or even July before the entire American public is completely vaccinated.
Proactive manufacturing of a vaccine through Operation Warp Speed, the name given to the White House's program to deliver 300 million vaccine doses by the end of the year, could trim the timeline by a few months, according to Dr. Anthony Fauci, director of the National Institute of Allergy and Infectious Diseases. By investing hundreds of millions of dollars in producing a vaccine before clinical trials are complete helps prevent a delay in it reaching the American public.
With that said, Fauci and the head of Operation Warp Speed weren't confident that it was enough to bring a vaccine to market in 10 months. Dr. Moncef Slaoui, who is leading Operation Warp Speed, told CNBC the "most susceptible" could be immunized by December if a vaccine is approved with the majority of the public following in the first four months of 2021.
Trump told Wallace that he disagrees with both Slaoui and Redfield, in part because of conversations he's had with the companies making the vaccine candidates. He added that there will be a vaccine "sooner than that," referencing the "middle of next year" timeline Biden offered.
This isn't the first time Trump brought up using the military to help deliver a coronavirus vaccine. In May, he told Fox Businesses' Maria Bartiromo it's a "massive job to give this vaccine" so he was mobilizing the military to "give it to a lot of people very, very rapidly" at the end of the year.
It set off conversations on social media among people who took Trump's remarks to indicate vaccinations would be forced upon people, a move that the president has never said would happen. The federal government doesn't have the power to forcibly innoculate people, experts told Newsweek, but lawmakers can restrict people's activities, such as attending school, if they don't have certain immunizations. Historically, mandates have been left up to states to implement and enforce, and Fauci told a Healthline town hall he doesn't foresee one happening with the new coronavirus.
"When you're in the medical sector, the hospital may say if you refuse to take a given vaccine ... you might not be able to have person-to-person contact with patients," Fauci said, adding that people have the right to refuse because "you can't force someone to take a vaccine."