Trump Says Nevada Dem Governor Will Cheat Him Out of Winning State on Election Day
President Donald Trump on Tuesday suggested that Nevada's Democratic Governor Steve Sisolak will cheat him out of winning the state on election day.
While appearing on Fox & Friends on Tuesday morning, Trump responded to Sisolak's recent criticism for the indoor campaign rally Trump held in Nevada on Sunday, and said, "this is the same guy that's gonna be in charge of the ballots."
"You think that's fair? Millions of ballots are going out, he's the governor of the state. Do you think it's a fair thing? Because I'm winning that state easily," Trump said. "But the one thing they can't beat—if they cheat on the ballots. Now, he'll cheat on the ballots. I have no doubt about it. This is the same man who's in charge of the ballots."
Trump also suggested that Sisolak "tried to make it impossible" for him to hold the rally, adding that "this is what's happening, and it's a disgrace."
"You're gonna see something with these ballots, you're gonna see corruption like you've never seen," Trump added. "You're gonna see a rigged election. This guy would do anything and he's in charge of the ballots."
The president continued, "so you're gonna have millions of ballots, the man that tried to prevent us from getting a site, and he's the man that forced us inside."
Despite Trump's comments about winning Nevada "easily," two recently conducted polls show him trailing Democratic presidential candidate Joe Biden in the state.
In a poll conducted by the University of Las Vegas Lee Business School, 44 percent said they'd vote for Biden, compared to 39 percent for Trump. The poll surveyed 682 self-identified likely voters in Nevada from August 20 to August 30 and has a margin of error of plus or minus 4 percentage points.
Another poll from the New York Times/Sienna College found the former vice president leading Trump by four points (46 to 42 percent). It surveyed 462 likely Nevada voters from September 8 to September 10 and has a margin of error of plus or minus 5.3 percentage points.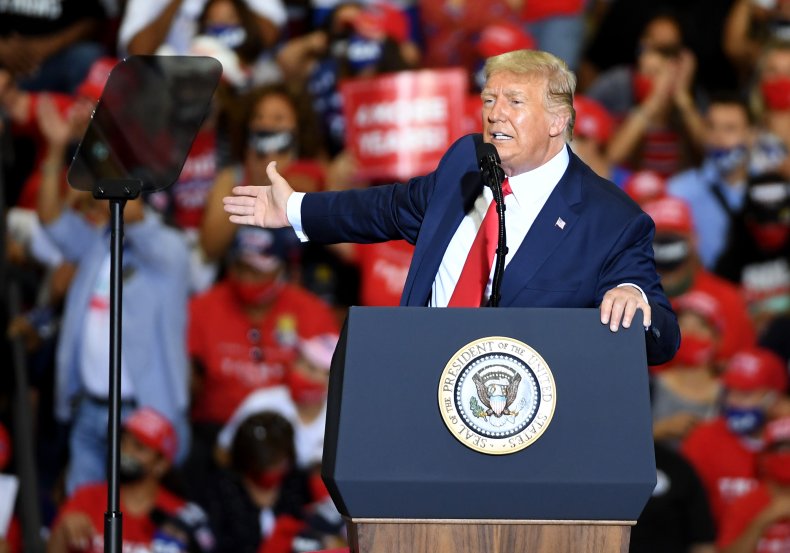 The president made similar comments while speaking to his supporters at Sunday's rally, suggesting that Sisolak could rig the election.
"He's in charge of the election and the millions of ballots," Trump said during the recent campaign rally. "So, if I'm up, like, millions of votes, he can rig the election."
Newsweek reached out to Trump's campaign and Governor Sisolak for comment but did not receive a response in time for publication.