Trump Says New York Has Received 4M N95 Respirators, 1.8M Surgical Masks, 460K Face Shields, 1.4M Gloves and 4,400 Ventilators
President Donald Trump announced the delivery of millions of pieces of personal protective equipment (PPE) to New York during Thursday's coronavirus task force news briefing.
Trump also said that the temporary hospital set up in the Javits Center in New York City would be converted to specifically fighting coronavirus.
"To date," Trump said about New York City, "FEMA has delivered 4 million N95 mask respirators. Think of that. Four million. Four million. Don't forget, we're a secondary source. The states are doing it, and we're backing them up, but we've got 4 million N95 respirators."
"1.8 million surgical masks, 460,000 face shields, 1.4 million gloves and 4,400 ventilators just to the city and the state of New York. Some of them now are being sent," Trump continued.
Newsweek reached out to the New York City Department of Health for comment.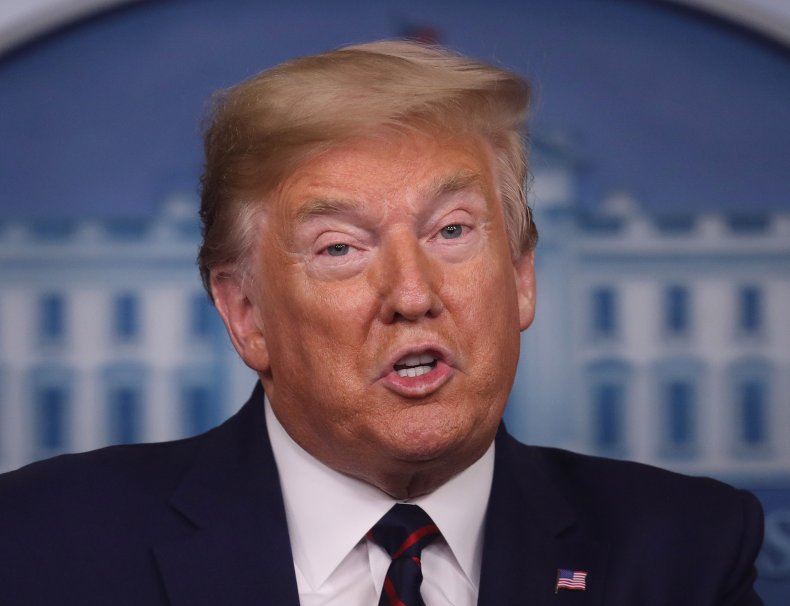 Trump also said the Jacob K. Javits Convention Center in New York City would begin accepting coronavirus patients.
"On top of the 3,000 beds we're already providing to the Javits Center, the Department of Defense is adding another 48 ICU beds," Trump said. "[New York] Governor [Andrew] Cuomo has asked that this facility go, and it's a big beautiful facility, to be converted to a COVID hospital and we hadn't done that yet. We hadn't thought in terms of doing that but their use is, their real demand is for that."
Members of the military and the federal government are expected to work at the Javits Center facility.
"We will be staffing it so the federal government is doing a lot of things that it wasn't anticipated to do," Trump said.
Trump said the same staffing arrangements would be made in hospitals in both Louisiana and Texas.
"We spoke to the governor of Louisiana, spoke to the governor of Texas, and we've told them that we will be staffing those hospitals," Trump said. "Again, above and beyond, but that's okay. We have to do that."
Newsweek reached out to the office of Louisiana Governor John Bel Edwards for comment.
On Thursday, Edwards extended the stay-at-home order for his state until the end of April.
Edwards cited a recent coronavirus study from the University of Louisiana at Lafayette while explaining his decision during a Thursday news briefing. The study showed that Louisiana has "the fastest growth rate in confirmed cases in the world in the first 13 days right here in Louisiana. In the last two weeks, our growth rate has been faster than any other state or country in the world."
Recent data indicated 9,150 confirmed positive cases of coronavirus in Louisiana, with 2,726 cases added on Thursday alone. Edwards attributed the uptick in positive testing to results coming from commercial laboratories.
"It's important to understand that what's happening in Louisiana with the increased testing is also happening around the country," Edwards said in a Thursday statement. "That said, as more and more commercial labs come online our different data systems must learn to talk to one another."