Trump Says North Korea Already Destroyed 'Four of Their Big Test Sites'
President Donald Trump said Thursday that North Korea has already demolished four of its main military testing sites, in a sign that the country was moving forward with its vow to abandon nuclear weapons in exchange for peace.
Trump hailed a "tremendous success" following a landmark summit between him and North Korean supreme leader Kim Jong Un earlier this month in Singapore—the first-ever meeting between a sitting U.S. president and a North Korean ruler. Pyongyang so far regarded its nuclear program as vital to its survival in the face of what it viewed as U.S. hostility, but Kim has indicated he would be willing to shutter the program if his security was guaranteed.
"It's been an incredible experience. The relationship is very good. They've stopped the sending of missiles including ballistic missiles, they're destroying their engines site, they're blowing it up," Trump said.
"They've already blown up one of their big test sites, in fact it was actually four of their big test sites, and the big thing is that it will be a total denuclearization, which is already starting to take place," he added.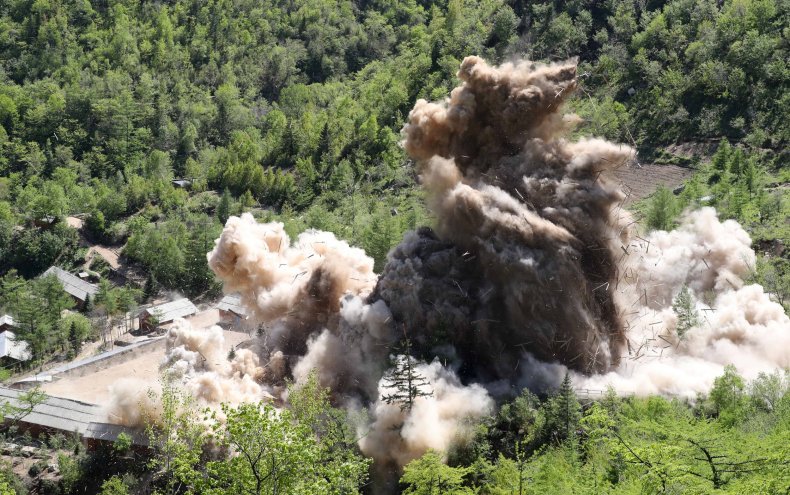 After a series of key advances in North Korean missile and nuclear technology were matched with a heated war of words between the U.S. and North Korea last year, Kim reached out to U.S.-backed South Korea for peace talks at the beginning of this year. The talks, which ultimately saw the two rivals march under a unified flag at the Winter Olympic Games in Pyeongchang led to further diplomatic ties that eventually spawned a personal invite from Kim to meet Trump.
Related: Donald Trump Says North Korea Summit Media Coverage Was 'Almost Treasonous'
Ahead of this meeting, the U.S. quietly withheld nuclear assets from joint military exercises with South Korea in April and, later that month, Kim announced a freeze on all nuclear and longer-range missile tests before crossing the border to meet South Korean President Moon Jae-in. The following month, North Korea invited foreign journalists to witness the destruction of it's only known nuclear testing site in Punggye-ri.
Satellite imagery and intelligence reports have offered conflicting analysis regarding Kim's dismantling of key weapons testing and production sites leading up to and following his June 11 meeting with Trump, who announced the following day that North Korea had destroyed a "major missile engine testing site."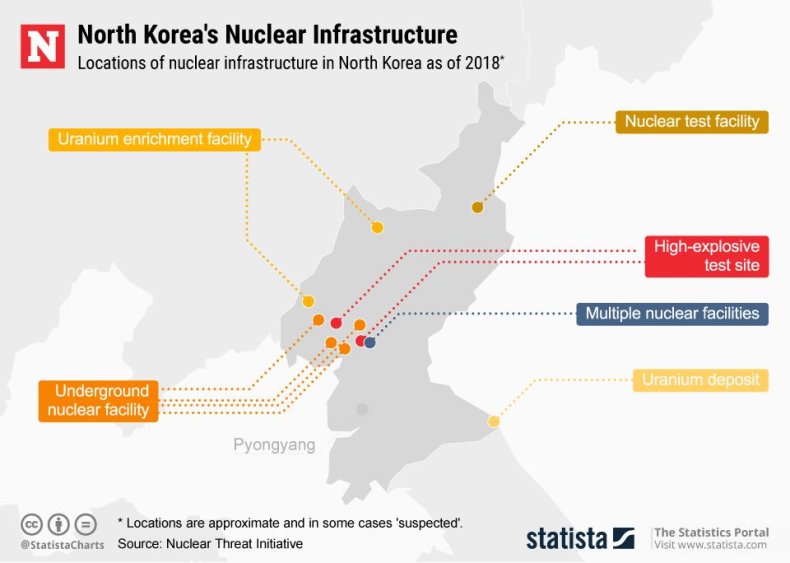 Source: Statista.com
A report published June 6 by North Korea monitoring group 38 North, an affiliate of the Stimson Center, showed "satellite imagery indicates that North Korea is razing the missile test stand at the Iha-ri Driver Training and Test Facility north of the city of Kusong in the wake of Kim Jong Un's April statement announcing a unilateral suspension of ballistic missile and nuclear tests."
Since then, however, 38 North identified "no alterations or activity to any of [North Korea's] six known launch and engine test facilities and two ejection test stands" in a new report published Friday. The leading monitor​ pointed out that it "has not yet identified any activity associated with the dismantlement of facilities at Sohae or any other test sites in North Korea." A classified Israeli intelligence report published by Axios also cast doubt on North Korea's intentions in destroying key weapons sites.