Trump Says North Korea and Kim Jong Un's 'Christmas Gift' Might Not a Missile Test: Maybe He 'Sends Me a Beautiful Vase'
One day before the Christmas holiday, President Donald Trump speculated that North Korean leader Kim Jong Un's promised gift might not be military aggression, but something that could be placed under a tree.
"Maybe it's a nice present. Maybe it's a present where he sends me a beautiful vase, as opposed to a missile test," Trump told reporters during a teleconference Tuesday, according to NPR.
After negotiations between Trump and Kim Jong Un regarding North Korea's denuclearization stalled, tensions between the two countries mounted. In April, the North Korean leader set an end-of-the-year deadline for negotiations but the two sides appear to be at an impasse. North Korean leaders promised a "Christmas gift" for Americans.
On December 3, North Korea's vice minister of foreign affairs said the gift the U.S. receives is entirely up to the United States. North Korea wants the U.S. to abandon the "hostile policies" of requiring North Korea to denuclearize before providing sanctions relief, according to ABC News, and if America doesn't, North Korea may take military action.
General Charles Brown, U.S. Pacific Air Forces commander, told ABC News that he expected the "gift" to be "some kind of long-range ballistic missile" test.
During Tuesday's teleconference, Trump added that he'll handle whatever North Korea does "as it comes along," according to CNN.
"We'll find out what the surprise is and we'll deal with it very successfully," Trump told reporters. "We'll see what happens."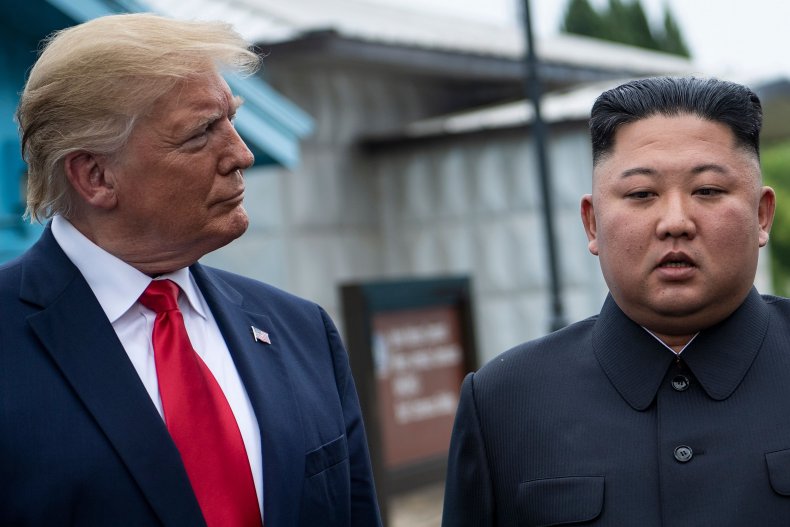 Trump championed his ability to work with Kim Jong Un toward denuclearization and claimed progress was being made. But in recent weeks, North Korea signaled that unless Trump is willing to offer something substantial in return for their meetings, they'd halt talks so as to not give him a presidential victory at home.
At the NATO summit in London in December, Trump told reporters that America was prepared to use military force against North Korea if it was deemed necessary. Utilizing the nickname for Kim Jong Un he coined in 2017, "Rocket Man," the president's comments didn't sit well with North Korea.
North Korean 1st Vice Foreign Minister Choe Son Hu said in a statement that it would be a "very dangerous challenge" to return to the relationship the two leaders had in 2017 when the "war of words went back and forth across the ocean."
Trump told reporters he would be surprised if North Korea acted in a hostile manner and wrote on Twitter on December 8 that Kim Jong Un was "too smart" and had "too much to lose" in provoking the U.S.
North Korea and the U.S. reaching a deal before the December 31 deadline is unlikely but Pyongyang could be partially relieved of international sanctions through a United Nations Security Council resolution. The proposal, drafted by Beijing and Moscow, circulated on December 16 and would require a diplomacy commitment from the U.S., North Korea, China, Russia, South Korea and Japan.
In exchange for an affirmation to the denuclearization, the U.N. would lift certain restrictions on North Korea.
Trump Says North Korea and Kim Jong Un's 'Christmas Gift' Might Not a Missile Test: Maybe He 'Sends Me a Beautiful Vase' | U.S.