Following their historic meeting, President Donald Trump has claimed that North Koreans love leader Kim Jong Un, despite saying several months ago that Kim starved his own people.
Speaking in an interview with ABC's George Stephanopoulos after a sit-down with Kim, Trump said you could see "the fervor" felt by people in North Korea for Kim.
"His country does love him," Trump said. "They're gonna put it together, and I think they're going to end up with a very strong country, and a country which has people—that they're so hard working, so industrious."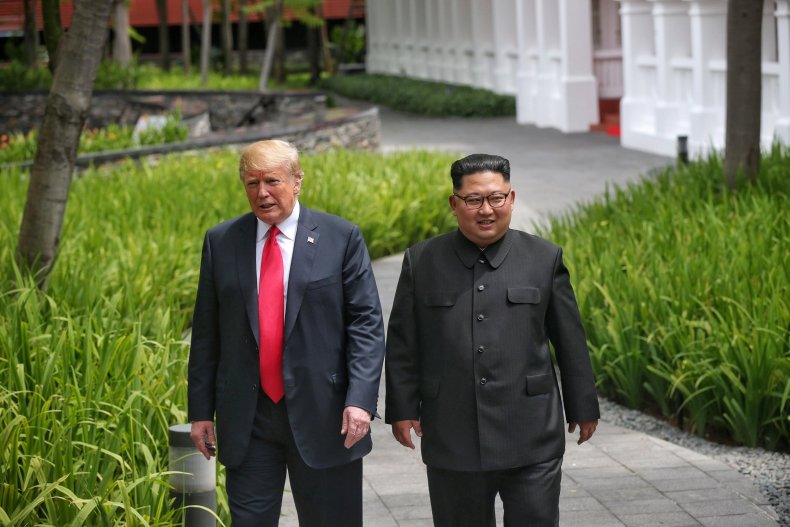 The president also appeared to bat away questions about human rights abuses in the isolated nation, which he himself has previously acknowledged, including in his January State of the Union address, The Hill reported. The president said North Korea "more brutally oppressed its people than any regime on earth."
"I mean, this is what we have, and this is where we are, and I can only tell you from my experience, and I met him, I've spoken with him, and I've met him," Trump said, explaining he could only speak about his own experiences with the North Korean leader.
"Will I come back to you in a year, and you'll be interviewing me, and I'll say, 'Gee, I made a mistake?' That's always possible," he added.
And the topic was also touched upon in a separate interview, with Trump pressed again on the issue of human rights and his previous statements on North Korea.
The president told Voice of America's Greta Van Susteren: "He's got a great personality. He's a funny guy, he's very smart, he's a great negotiator. He loves his people, not that I'm surprised by that."
Asked by Van Susteren about human rights abuses, Trump replied: "Look, he's doing what he's seen done, if you look at it. But I really have to go by today and yesterday and a couple of weeks ago because that's really when this whole thing started."