Trump Says NRA Would Lead a 'Beautiful Life' in Texas After 'Very Terrible' N.Y. AG Lawsuit
President Donald Trump suggested the National Rifle Association should relocate to Texas where the organization would lead a "beautiful life," in response to New York Attorney General Letitia James' "very terrible" lawsuit against the NRA.
"That's a very terrible thing that just happened. I think the NRA should move to Texas and lead a very good and beautiful life," Trump told reporters on Wednesday. "I've told them that for a long time. I think they should move to Texas. Texas would be a great place. Or to another state of their choosing."
Before and during his presidency, Trump has been an avid supporter of the nonprofit organization. His recommendation for the NRA comes after James announced her office is suing to dissolve the organization.
"Attorney General James charges the organization with illegal conduct because of their diversion of millions of dollars away from the charitable mission of the organization for personal use by senior leadership," a press release from James' office reads.
The NRA is registered as a nonprofit in New York, while its national headquarters are located just outside of Washington, D.C., in Fairfax, Virginia.
Texas is known for having some of the loosest gun laws in the country and for being politically dominated by Republican leadership.
According to a Dallas Morning News analysis of campaign finance data, the NRA and the Texas State Rifle Association donated over $700,000 to state politicians last year. Of the candidates who received money from the NRA, four in five were Republicans.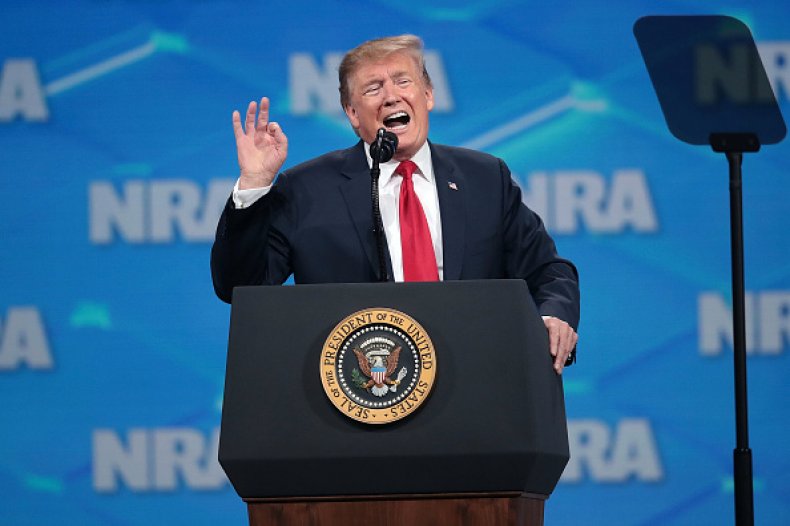 Trump said that voting for presumptive Democratic nominee Joe Biden will be the final push to eradicate gun rights in the country.
"Just like Radical Left New York is trying to destroy the NRA, if Biden becomes President your GREAT SECOND AMENDMENT doesn't have a chance. Your guns will be taken away, immediately and without notice. No police, no guns!" the president tweeted on Thursday.
The NRA has also noted the timing of the lawsuit, which comes with less than 90 days until the election.
"You could have set your watch by it: The investigation was going to reach its crescendo as we move into the 2020 election cycle," NRA President Carolyn Meadows said. "It's a transparent attempt to score political points and attack the leading voice in opposition to the leftist agenda."
New York NRA board member Tom King told Newsweek in an emailed statement that the organization had been anticipating an investigation with New York Governor Andrew Cuomo, who is a Democrat, in office.
"I was told Cuomo would use every resource to pursue his lifelong dream of defeating the NRA, and an 'investigation' of our Association was on the horizon," King said. "I always expected better of the governor, and hoped he would rise up to honor the principles under which he was elected. I feel compelled to share this story today for all who hoped this state would put its people first—not use them as pawns to advance Cuomo's partisan agenda."
Nearly 46 percent of Texan adults live in homes with guns in comparison to New York, where less than 20 percent of adults report have guns in their homes, according to a long-term study from think tank Rand Corporation.
Newsweek reached out to James for comment but did not hear back in time for publication.