Trump Says Obama Didn't Warn Him About Russia Because 'It Is All a Big Hoax'
Former President Barack Obama did not warn President Donald Trump about Russia hacking claims because "it is all a big hoax," Trump claimed in a tweet on the topic.
In a message sent on Sunday evening, Trump lashed out at the Democrat former leader, also suggesting as he has done on previous occasions that the investigation into Russia's alleged attempt to influence the outcome of the presidential election was a "hoax."
"So President Obama knew about Russia before the Election. Why didn't he do something about it? Why didn't he tell our campaign? Because it is all a big hoax, that's why, and he thought Crooked Hillary was going to win!!! " the president wrote on Sunday.
Earlier on in the day, Trump had tweeted: "I had a GREAT meeting with Putin and the Fake News used every bit of their energy to try and disparage it. So bad for our country!"
The president's comments come following a backlash over his meeting with Russian President Vladimir Putin last Monday, when Trump appeared to suggest he believed Putin's denial on election meddling over the information that his own intelligence agencies had provided.
"They say it's Russia. I have President Putin. He just said it's not Russia," Trump told reporters last Monday.
"I will say this: I don't see any reason why it would be…. I have great confidence in my intelligence people, but I will tell you that President Putin was extremely strong and powerful in his denial today," he added, later claiming he had misspoken and intended to say: "I don't see any reason why it wouldn't be."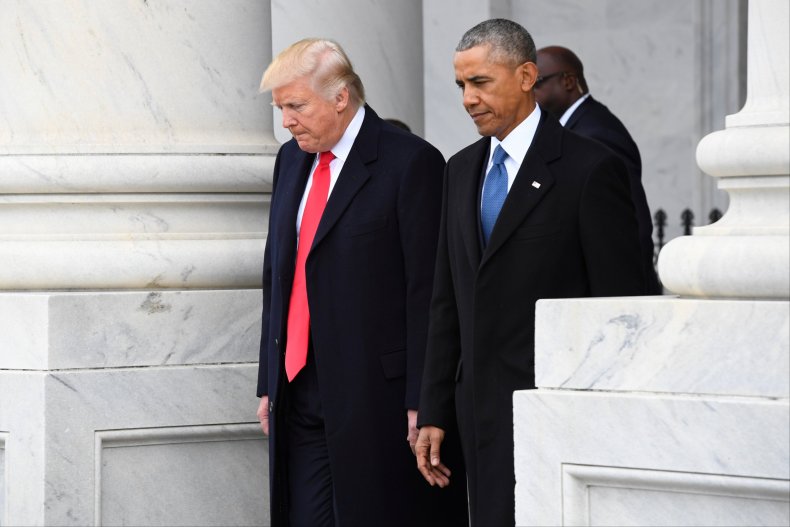 However, since his backtracking on the original statement, he has insisted in interviews that the press conference went well and that the "fake news" media have attempted to make him look bad.
After backtracking over the comments, Putin has increasingly lashed out at former President Obama over Russia—in particular the 12 Russian nationals who were indicted by Special Counsel Robert Mueller over the hacking of the Democratic National Committee.
Earlier in the month, Trump tweeted: "The stories you heard about the 12 Russians yesterday took place during the Obama Administration, not the Trump Administration. Why didn't they do something about it, especially when it was reported that President Obama was informed by the FBI in September, before the Election? "
"These Russian individuals did their work during the Obama years. Why didn't Obama do something about it? Because he thought Crooked Hillary Clinton would win, that's why. Had nothing to do with the Trump Administration, but Fake News doesn't want to report the truth, as usual! " he said in a separate tweet.