Trump Says Osama Bin Laden Had 'One Hit,' Champions His Strike on al-Baghdadi, Soleimani
Former President Donald Trump downplayed Osama bin Laden's impact on the world ahead of the 20th anniversary of the September 11 terror attacks, saying he had "one hit."
Trump regularly criticizes the press and officials for not giving him his due credit, something he chalks up to being part of an anti-Trump agenda. On Thursday, he took issue with the press not discussing his strikes on Abu Bakr al-Baghdadi, the leader of ISIS, and Qasem Soleimani, commander of the Quds Force, as they were "bigger" terrorists than bin Laden.
"Osama bin Laden had one hit, and it was a bad one, in New York City, the World Trade Center. But these other two guys were monsters. They were monsters," Trump told radio host Hugh Hewitt.
Trump's comments come just weeks before the 20th anniversary of the September 11, 2001, terrorist attacks. The attacks, orchestrated by bin Laden, were the catalyst for the war on terror and served as the footing for the U.S. to invade Afghanistan.
Twenty years later, America is leaving Afghanistan, a decision that President Joe Biden has stood behind on the basis that the mission was to kill bin Laden and that was accomplished. On May 2, 2011, the United States military conducted a raid at bin Laden's compound in Pakistan, killing the al Qaeda leader.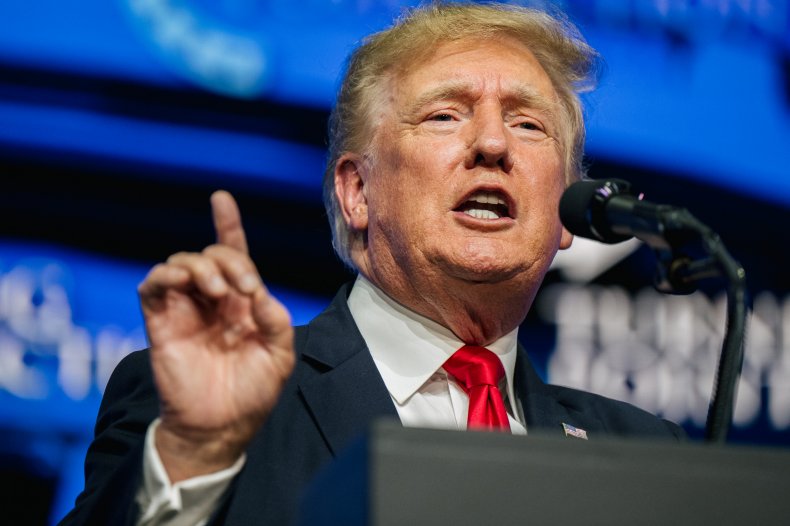 An accomplishment Americans celebrated nationwide, Trump told Hewitt he was told that his strike on Soleimani in 2020 was the "biggest thing to happen in the Middle East." While speaking with Pakistani Prime Minister Imran Khan, Trump said the Pakistani leader told him he closed his offices for a week because it was the biggest Middle Eastern event in "100 years."
"But I'll never forget the head of Pakistan, highly respected and very elegant person, said this was a day that is the most important day. We couldn't believe it. It took him weeks to believe it. That's what he told me," Trump added.
A year before U.S. forces took out Soleimani, Trump ordered a raid on al-Baghdadi's compound in Syria. During the mission, al-Baghdadi crawled into a tunnel with two small children and detonated a suicide vest.
"Don't think that the Taliban wasn't watching, because ISIS is tougher than the Taliban, and nastier than the Taliban," Trump told Hewitt, referencing his work fighting ISIS.
While Trump tried to dismiss bin Laden as having only "one hit," attacks linked to the al Qaeda leader date back to the 1990s. U.S. intelligence agencies allege bin Laden's first terrorist attack was in 1992 when a bomb exploded at a hotel in Yemen where U.S. troops had been staying. The troops left before the explosion, which killed Austrian tourists. Bin Laden was also linked to two embassy bombings in 1998 that killed 12 U.S. nationals and the bombing of the USS Cole, killing 17 American sailors.