Trump Says Pelosi Isn't to Blame for Stimulus Deadlock, China Is
President Donald Trump ramped up his ongoing feud with China on Friday by blaming the country for the months-long bipartisan stimulus deadlock in Congress.
As Americans grow frustrated over the stimulus stalemate, Republicans and Democrats have blamed each other for their inability to pass another round of relief amid a pandemic that has left millions in desperate need of aid. Democratic leaders have condemned the GOP for failing to present sufficient funding and Republicans have accused House Speaker Nancy Pelosi of using COVID to advance her party's political agenda.
During a campaign rally in Newport News, Virginia, Trump insisted that China was responsible for the lack of relief, not Pelosi. "We want to get some stimulus out, [Pelosi] doesn't want to give it," the president said. "She is only doing it for political reasons. Not your fault."
"You know whose fault it is? China's fault... That's who's fault it is."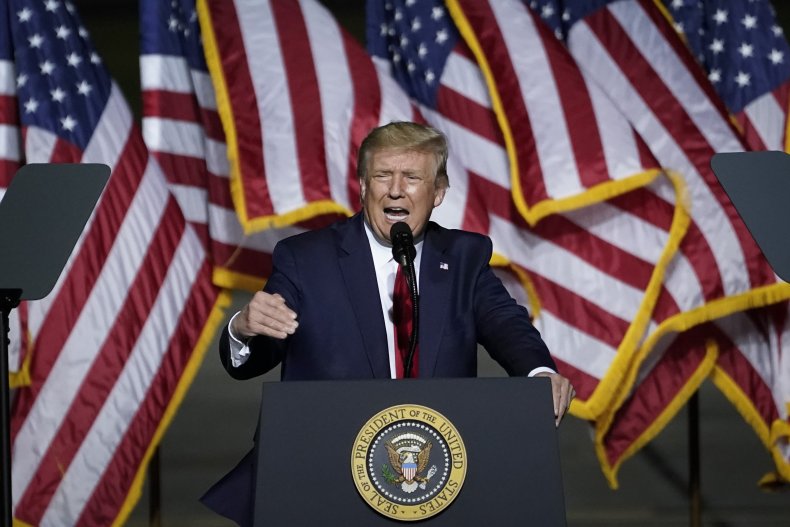 Newsweek reached out to the White House and the office of Chinese Ambassador to the United States Cui Tiankai for comment.
Since the World Health Organization declared the pandemic in March, Trump has routinely blamed the Chinese Communist Party for having "unleashed this plague onto the world" as his administration struggles with containment.
The U.S. became the country with the highest number of confirmed COVID cases on March 26, and has been leading the world ever since. As of September 25, a total of more than 7,240,000 infections had been reported across America—more than 80 times the number of confirmed cases in China, where the virus was first identified.
Trump continued to bash China and defend U.S. leadership during his rally on Friday. "We did all these incredible things with the economy after we got hit with this virus from China, they should never have let it happen," he said. "We won't forget it."
"When the plague arrived from China, we launched the largest national mobilization since World War II. We pioneered life saving therapies, reducing the fatality rate to 5 percent."
In his virtual address to the 75th session of the U.N. General Assembly this month, Trump insisted that the world was locked in a "great global struggle" against the "invisible enemy–the China virus," a widely-disparaged term that the president frequently uses to refer to COVID.
He also criticized Beijing's environmental record and rebuked U.N. member states for allegedly pandering to Chinese President Xi Jinping.
While Xi didn't name Trump in his address, he emphasized the need for "mutual respect and equality among all countries."
The escalating U.S.-China dispute, worsened by the pandemic, has consumed international relations. Under Trump's presidency, both countries have implemented tit-for-tat trade tariffs and expelled diplomats and journalists. The Trump administration has repeatedly accused Beijing of human rights and trade abuses and called on other nations and companies to stop doing business with the country.