Trump Says People 'Almost Romanticizing' His Time in Office as He Teases 2024 Run
Former President Donald Trump seems confident in his ability to launch a 2024 presidential campaign, in part because he thinks voters are disillusioned with President Joe Biden's administration.
Trump has been one of Biden's most vocal critics, targeting him for problems with the supply chain, the economy and the chaotic withdrawal of troops from Afghanistan. It's possible the two American leaders could be gearing up for a rematch of the 2020 presidential election, and while Trump hasn't committed to another presidential run, he's already juxtaposing his time in office with Biden's.
"People are looking, they're almost romanticizing about it because they look at what happened to our country in the last year," Trump told Fox News, referencing his time in office. "In my opinion, the prestige of the United States now is lower than it's ever been in history—in our history— it is the lowest it's ever been."
Going into his second year in office, Biden's struggling with low approval ratings, the ongoing COVID-19 pandemic and a down economy. However, the president reflected on his first year with pride, citing the reduction in child poverty because of the expanded Child Tax Credit, increase in vaccinations and the addition of 6 million jobs.
Some have accused Biden of overpromising as a candidate and underdelivering as president, an assertion he denied. He said on Wednesday that his administration made "enormous progress" and criticized Republicans for not getting "in the game of making things better in this country."
"I did not anticipate that there'd be such a stalwart effort to make sure that the most important thing was that President Biden didn't get anything done," Biden said.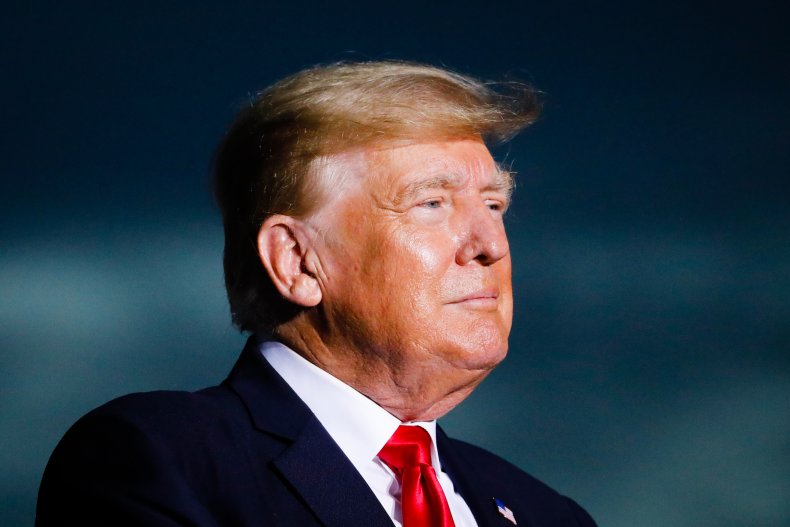 Biden's not only facing opposition from Republicans, but he hasn't been able to rally a unified Democratic caucus on key issues. The Build Back Better Act and voting rights legislation stalled after Democrats couldn't drum up the votes needed to pass the bills. Biden acknowledged that they're "not going anywhere" but denied he would be unable to make significant moves before the 2022 midterms elections.
Trump's fight against Biden begins with the 2022 midterms, and he's committed to helping Republican candidates that espouse his "America First" agenda win their races. Republicans need to flip only one seat in the Senate and a few in the House to retake control of Congress, a change that could block Biden from being an effective president in his last two years.
Part of Trump's strategy to help Republicans take back Congress is to push messaging about Biden's failures. He has repeatedly hit Biden for problems with the supply chain, which are helping fuel rising prices, and the pandemic.
Trump told Fox News that the country is being "absolutely destroyed," a message he has conveyed through emailed statements, as well. While he's unlikely to convince many Democrats to vote for Republicans in the midterms or for him if he decides to run for president, disillusion with the current president could play to Republicans' favor.
Putting America's problems squarely on the shoulders of Biden and Democrats could help mobilize Republicans to vote in the midterms and the 2024 election. It also could help convince some Independents to either stay home or vote for Republicans, giving the GOP an edge in close races.
When asked about the 2024 presidential election, Trump continued to hype the possibility that he would make another bid for office without committing. He reiterated to Fox News that his decision will make "a lot of people happy." Citing his strong poll numbers, he said people are "looking at what we've done" in comparison to Biden and said he would be able to bring the country "back and bring it back quickly."