Trump Says 'People in Dark Shadows' are Controlling Joe Biden
President Donald Trump said Monday that protesters in Portland were being paid by an external source to incite civil unrest.
Trump made the comments to Fox News host Laura Ingraham in a pre-taped interview broadcast on Monday's installment of her program, The Ingraham Angle.
Trump said that a Biden administration would represent a takeover by Democrats which would not make things in the U.S. more peaceful. President Trump also repeated the allegation that Biden is a "puppet" for left-leaning Democrats.
"Biden won't calm things down," Trump said. "They will take over. They will have won. If Biden gets in, they will have won. He's a weak person. He's controlled like a puppet. So it's not going to be calm things down. It's going to be they will have won. They will have taken over your cities. It's a revolution. You understand that. It's a revolution and the people of this country will not stand for that."
Newsweek reached out to the Biden campaign for comment.
Trump said that Biden was being controlled by "people that you've never heard of. People that are in the dark shadows. They're people that are in the streets, they're people that are controlling the streets." Funding for the "revolution" is coming, according to Trump, from "very stupid rich people that have no idea that if their thing ever succeeded, which it won't, they would be thrown to the wolves like never before."
Trump said that the situation in Portland, Oregon was a "little different" than in other "blue cities" where protests have occurred.
"That's anarchists," Trump said. "I actually think in many ways that's easier to handle. I think Portland is very easy to handle because that's a group of anarchists that are paid by the outside."
"I think they're just thugs," Trump added. "It may be an ideology and it may not. It is an ideology for the people that are paying them. And the funny thing is, and the strange thing is, that the people who are paying them and all this money, because somebody's doing it, the people paying them, those people will be overthrown. Their lives will be taken away. Their lives will be in danger. They're all going to be gone. They're just stupid foolish people that made a lot of money."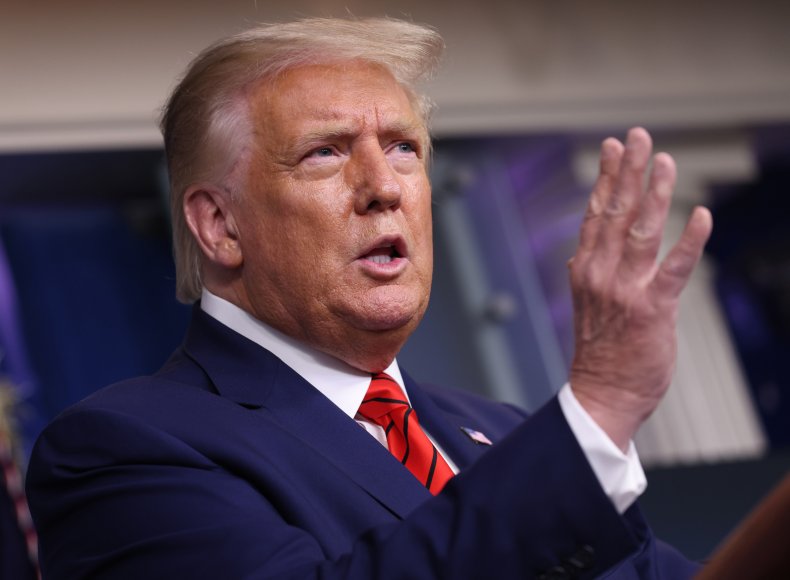 President Trump implied that the violence in Portland brought about by weeks of sometimes violent protests against racism and police culture could be easily stopped if lawmakers would allow him to quell the unrest.
"These are terrible and very incompetent people," Trump said of Democratic presidential candidate Joe Biden and Portland, Oregon Mayor Ted Wheeler. "I've offered to send in the National Guard, I've offered to send in anybody they want. I could put that out in 45 minutes and it would stop. I think the people of Portland and the people of Oregon-- I know it's a liberal state, considered liberal-- they're tired of it."
Trump also said that some corporations that donate money to advocacy causes like Black Lives Matter are "weak people led by weak people in many cases. Not all corporations."
"They just do what's the easiest path. That's not the easiest path, that's a dangerous path. Black Lives Matter is a Marxist organization," Trump said.
Trump referred to the shooting of Jacob Blake in Kenosha, Wisconsin while also emphasizing that sometimes police officers "choke" under pressure.
"Shooting the guy in the back many times, I mean, couldn't you have done something different, couldn't you have wrestled him?" Trump said. "In the meantime, he could have been going for a weapon and, you know, there's a whole big thing there but in the meantime, they choke. Just like in a golf tournament, they miss a 3-foot putt."
Trump clarified that he was not placing Jacob Blake's shooting on the same level of importance as a golf game. "I'm saying people choke," Trump said. "They choke and people are bad people. You have both. Some bad people and they choke."