Trump Says People 'Like Me More Than Ever Before,' Though Biden Still Leads in Polls
Former President Donald Trump insisted he was more popular than ever on Wednesday, while polls continue to show that President Joe Biden would defeat him again if they were to face off in a rematch of the 2020 election.
Biden defeated Trump by more than 7 million national popular votes and 74 Electoral College votes last year, although the former president has continued to push false claims and conspiracy theories that the election was "stolen" from him due to widespread voter fraud.
During an appearance on the latest edition of Fox News' Hannity, Trump touted the weight of his endorsement for Republican candidates, asserting that it was evidence of the public "liking" him more than ever.
"I'm very honored to say that my endorsement means more than any endorsement that has ever been given by anybody," Trump said. "The fake news doesn't like talking about it but the numbers are really incredible... If you look at the numbers, people are liking me more now than ever before."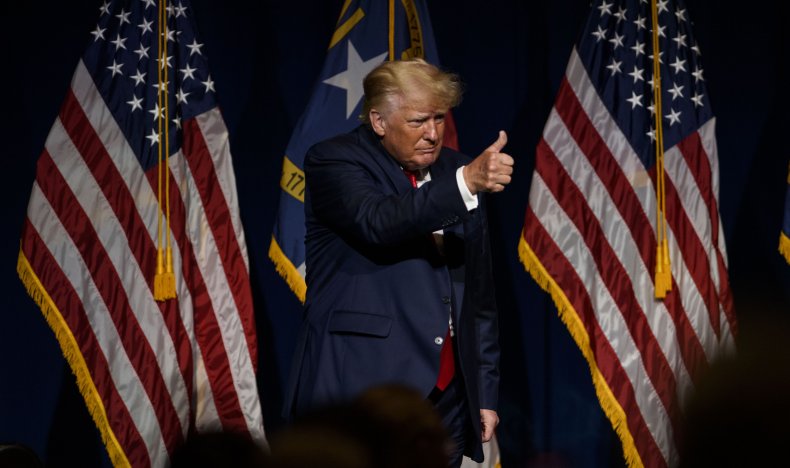 The former president boasted that polling numbers for Republican candidates that he endorses "go up 20, 30, 40 points sometimes." Polling data shared Tuesday by the campaign of Rep. Ted Budd (R-N.C.), a 2022 Senate candidate, appeared to back up that claim.
"The Ted Budd for US Senate campaign today released survey results that reveal Ted Budd sees a 45-point net positive swing and surges to a 19-point lead when likely Republican primary voters learn that President Donald Trump has endorsed Ted Budd for US Senate," Budd's campaign said in a statement.
While Trump may still be very popular among Republicans and retain considerable influence over the party, there is little reason to believe that his popularity has increased among all Americans. Recent national polling of his hypothetical 2024 rematch with Biden are less than favorable for the former president.
A poll conducted by YouGov and released late last month showed Biden with a 10 percent lead over Trump, slightly down from a 12 percent Biden lead earlier that month. In April, an Ipsos poll had Biden leading Trump by 17 percent.
Trump said on Wednesday that his self-declared boost in popularity was the result of the policies of the Biden administration, explaining that Americans are "watching what's happening with our country" and "I guess it's making me very popular."
Meanwhile, an average of approval polls compiled by polling analysis site FiveThirtyEight finds that 51.9 percent of Americans currently approve of Biden, more than ever approved of Trump during his time in office.
Newsweek reached out to the White House for comment.