Trump Says 'Rapists,' 'Murderers' Crossing Border, Calls Biden Not Visiting 'Disgraceful'
Years after being heavily criticized for referring to migrants as "rapists," former President Donald Trump resurfaced the controversial comment while highlighting the "incompetence" of his successor's approach to the southern border.
Trump told Fox Business' Stuart Varney on Monday that "criminals," including "rapists and murderers and drug dealers" are taking advantage of the "totally open" border. His comments were reminiscent of a description he used in 2015, when he announced that he was running for president at Trump Tower in New York City.
At the time, he called America a "dumping ground for everybody else's problem," and honed in on the need to crack down on undocumented immigrants, a staple of his candidacy and presidency.
"When Mexico sends its people, they're not sending their best ... They're sending people that have lots of problems, and they're bringing those problems with us. They're bringing drugs. They're bringing crime. They're rapists. And some, I assume, are good people," Trump said.
The comment was widely criticized and followed Trump throughout his presidency, but far from shying away from it, the former president stood by the words he used. Reflecting on his comment in 2018, Trump harped on the dangers undocumented immigrants face, saying "women are raped at levels that have never been seen before."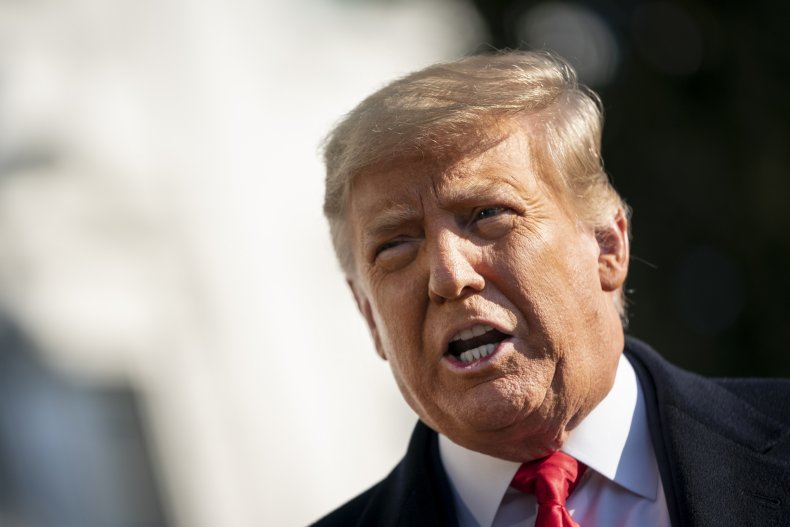 On Monday, Trump attributed the influx in border crossings to "incompetence" on the part of the Biden administration. He also took issue with the fact that officials from the current administration had yet to visit the border.
"It's disgraceful that no one from the administration has been there," Trump said. "I'm seriously considering [visiting the border]…just to support these incredible men and women who have done such a good job and they're just left out to dry."
The White House referred Newsweek to press secretary Jen Psaki's comment in March that the administration doesn't take its "advice or counsel" from Trump. She called his immigration policies "inhumane" and "ineffective."
"Our position has not changed," Vedant Patel, assistant press secretary, told Newsweek.
The president's approval rating for immigration is much worse than his overall job approval rating, and he named Harris as the "border czar," tasking her with addressing the root causes of the migration crisis. She's faced significant criticism for not visiting the southern border since receiving the assignment and both Democrats and Republicans have taken their own trips to draw attention to the influx in migrants and conditions they face once they arrive.
The White House has defended the lack of visits to the border, citing that Harris' role is focused on the "root causes" and not the border and the level of security that's needed for the president or vice president to visit.
In her first foreign trip since assuming her role as vice president, Harris left Joint Base Andrews on Sunday afternoon, destined to visit with Mexican President Andrés Manuel López Obrador and Guatemalan President Alejandro Giammattei.