Trump Says Republicans Won't Vote in Midterms, 2024 Election if 2020 Fraud Isn't 'Solved'
Former President Donald Trump believes Republicans will sit out the 2022 midterms and the 2024 presidential election, of which he may be a contender, if the fraud he believes occurred during the 2020 election isn't "solved."
Trump has been pushing that he rightfully won the 2020 presidential election since the race was called for Biden and has been critical of legislators and judges who don't back the belief as well. He has yet to prove widespread fraud occurred that would have changed the outcome of the election and on Wednesday, he railed against a Georgia judge who dismissed a fraud suit.
In a statement, Trump denied that little evidence has been produced to prove he's the rightful winner of the presidential election, saying that they've "thoroughly and conclusively documented" it. He added that Republicans will withhold their votes in 2022 and 2024 if the election fraud isn't "solved." He added it is the "single most important thing for Republicans to do."
Liz Shew, a spokesperson for the former president, told Newsweek failing to fix the problems Trump claimed plagued the 2020 election and holding "those who broke the rules" accountable will foster the belief among Republicans that their votes don't matter.
Newsweek reached out to former President Donald Trump for clarification as to what he would consider the alleged fraud "solved" but did not receive a response in time for publication.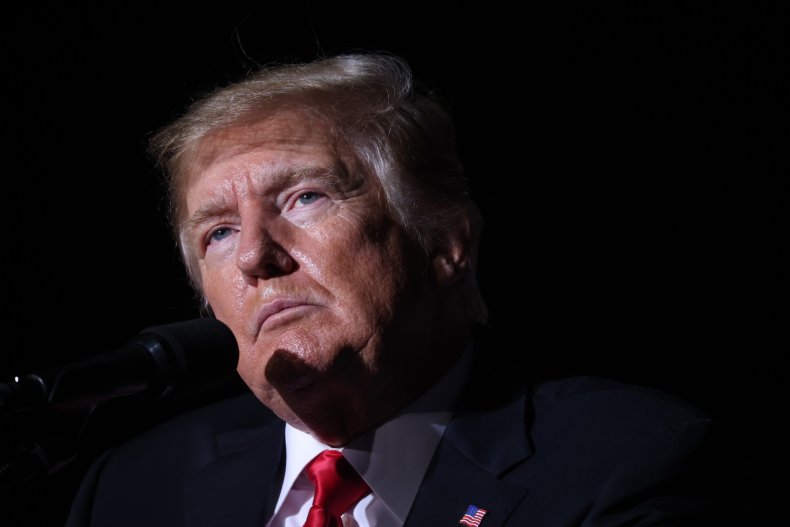 Although there have been instances of voter fraud occurring during the 2020 election, officials denied it was of the scale that could have changed the result, thereby giving Trump a second term in office. Trump has continuously pushed for investigations into the 2020 election, praising attendees of a rally that called for a full audit of the Michigan election results.
On Wednesday, he also criticized Henry County Superior Court Chief Judge Brian Amero for dismissing a lawsuit that sought to review nearly 150,000 absentee ballots from Fulton County, the most populous county in Georgia. Trump called the dismissal a "disgrace" to America and questioned why the public can't look at the ballots.
"Our country is going to hell and we are not allowed transparency even in our elections," Trump said. "The people of Georgia deserve to know the truth...The fight continues, we will never give up. Our elections are so corrupt and nobody wants to do anything about it!"
Filed in December by nine Georgia voters, Amero said the lawsuit lacked standing to claim their constitutional rights were violated because they "failed to allege a particularized injury."
Representative Marjorie Taylor Greene joined Trump's frustration at the ruling, telling Steve Bannon on his podcast that issues with the economy and the fallout of the withdrawal from Afghanistan constituted injury.
Garland Favorito, a longtime critic of the state's election systems and plaintiff in the case, told the Associated Press it's inadequate for organizations to "secretly tell us there are no counterfeit ballots and refuse to let the public inspect them."
Fulton County Board of Commissioners Chairman Robb Pitts called the ruling a "win for democracy" and dismissed claims of election fraud as a "meritless conspiracy theory" being spread by those who can't "accept that their side lost."