Trump Says 'RINOS' Kemp, Raffensperger 'Solely Responsible' If Loeffler, Perdue Lose Election
President Donald Trump said Monday that if Senators Kelly Loeffler and David Perdue lose their special elections in January, it will be the fault of some GOP Georgia Lawmakers, whom Trump described as Republicans in Name Only [RINOS].
Trump has criticized the voting process in Georgia as being fraudulent. Loeffler and Perdue, neither of whom received 50 percent of the popular vote in the November election, are scheduled to face off against their Democratic opponents in January. If Loeffler and Perdue lose the election, the U.S. Senate could end up with a Democratic majority.
In his tweet, Trump warned that Georgia Governor Brian Kemp, Lieutenant Governor Geoff Duncan and Secretary of State Brad Raffensperger would be to blame if Loeffler and Perdue do not regain their Senate seats.
"RINOS @BrianKempGA, @GeoffDuncanGA, & Secretary of State Brad Raffensperger, will be solely responsible for the potential loss of our two GREAT Senators from Georgia, @sendavidperdue & @KLoeffler," Trump tweeted. "Won't call a Special Session or check for Signature Verification! People are ANGRY!"
Newsweek reached out to Governor Kemp's office for comment.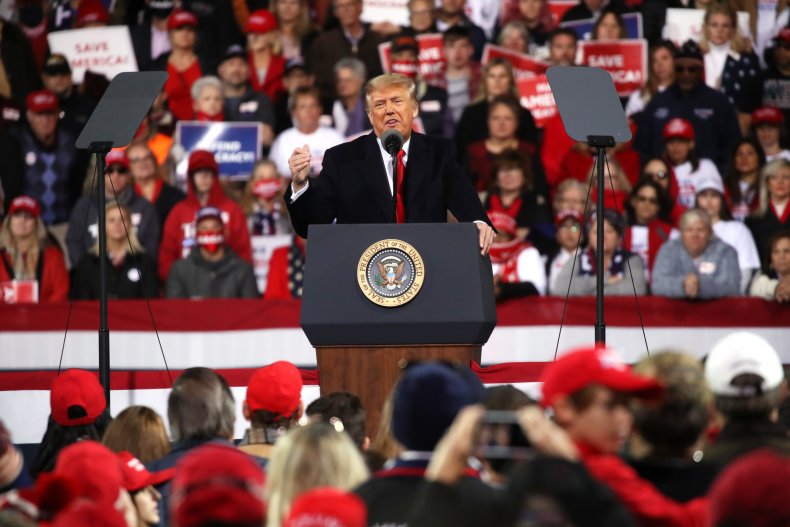 Trump appeared at a campaign event on behalf of Loeffler and Perdue in Valdosta, Georgia on Saturday. "Let me tell you, this election was rigged and we can't let it happen to two of the greatest, most respected people in Washington," Trump said.
Trump's allegations of widespread voting fraud in both the presidential and down-ballot votes in November are unsubstantiated.
After three separate counts of Georgia's ballots, Secretary Raffensperger officially declared President-elect Joe Biden the winner of the state's election. According to the Associated Press, Biden received 49.5 of the state's popular vote to Trump's 49.3 percent. Georgia's 16 electoral votes are expected to be allocated to Biden.
On Saturday, 4 members of Georgia's Senate asked Governor Kemp to call a special session of the General Assembly to discuss changing Georgia's electors to individuals who would vote for Trump rather than Biden. In a Sunday statement, Kemp and Duncan said choosing a "separate slate of presidential electors is not an option that is allowed under state or federal law."
Tuesday, known as Safe Harbor Day, is the deadline for any legal challenges to the election to be completed. All state certification of electors must also be completed by that day. On December 14, the Electoral College is expected to convene to officially choose the winner of the presidential election.
Biden won 306 electoral votes in November's election, more than the 270 electoral votes required to be officially declared president. Trump won 232 electoral votes.