Trump Says Sanders Would Be A 'Tougher' Opponent Than Biden: I Was 'Mentally All Set' to Face Him
President Donald Trump told the audience at a Fox News Town Hall Thursday night that he believes Vermont Senator Bernie Sanders would be a "tougher" opponent to beat in this year's upcoming presidential election than former Vice President Joe Biden.
Biden's campaign was seen as faltering before his victories on Super Tuesday, in which he won nine states. Sanders only won four, fewer than his campaign was expecting. Biden is also ahead in the current delegate count with 595 to Sanders' 526. In order to win the Democratic nomination, a candidate must amass 1,991 delegates.
Trump said he was ready to run against Sanders "because I thought it was going to happen. So mentally, I'm all set for Bernie. 'Communist!' I had everything down. 'He's a communist.'"
With the Thursday exit of Massachusetts Senator Elizabeth Warren from contention, Trump appears to view his Democratic opposition as being a two-person race.
"I was ready for Bernie," Trump said. "Now all of a sudden it's a whole different deal, two very different people. I think in a certain way Bernie would be tough because he's got a base. It's a much smaller base than my base."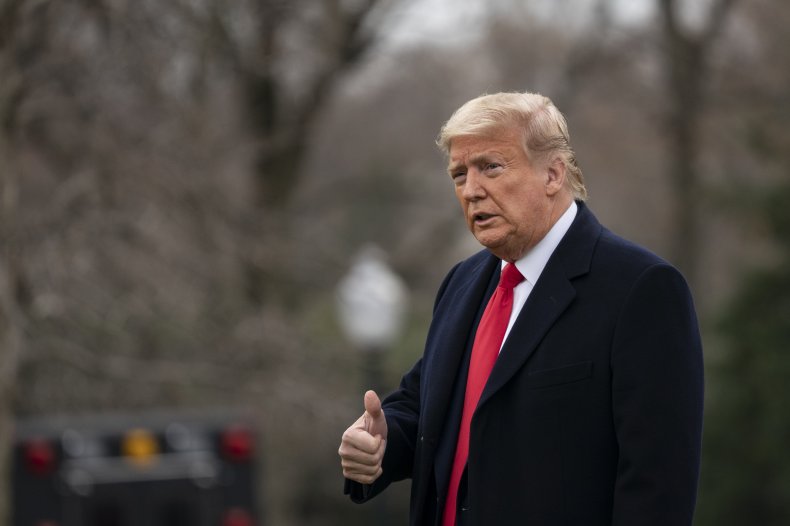 Trump also said he thought it would be "very hard" for Sanders to come back after his Super Tuesday defeats.
Newsweek reached out to the Sanders campaign for comment but did not receive a response in time for publication.
Trump has claimed that the Democratic Party has conspired to ruin Sanders' chances for the Democratic nomination.
"The Democrat establishment came together and crushed Bernie Sanders, AGAIN!" Trump tweeted Thursday. "Even the fact that Elizabeth Warren stayed in the race was devastating to Bernie and allowed Sleepy Joe [Biden] to unthinkably win Massachusetts. It was a perfect storm, with many good states remaining for Joe!"
Sanders has been less than receptive to the president's opinions on the Democratic race. During an interview with CNN's Anderson Cooper on Monday, Sanders warned Trump to "stay out of the Democratic primary."
"Why don't you do your job for a change as president?" Sanders asked. "Stop lying. Stop running a corrupt administration. Pay attention to the American people, not just your own political aims."
Sanders canceled a campaign rally scheduled for Friday in Mississippi in order to focus on his campaign in Michigan, which is scheduled to hold its Democratic primary during the second week of March. Michigan has 125 pledged delegates up for grabs as opposed to Mississippi's 36 pledged delegates.
"If possible, I will try to get to Mississippi," Sanders told reporters on Thursday. "But within a short period of time, I think as any candidate will tell you, you have to make a decision where you go and you can't go every place."