Trump Says Sarah Huckabee Sanders Had 'Nervous Breakdown' Over His McCain Reaction
President Donald Trump defended the way he responded to the death of Senator John McCain after facing criticism for the U.S. flag at the White House returning to full-staff less than two days after the senator's death.
Trump later ordered the flag to remain at half-staff to honor McCain, a Vietnam War veteran, after the nation's largest veterans group, the American Legion, called on him to do so.
Asked whether he felt he had made a mistake, Trump told Bloomberg in an interview on Thursday: "No, I don't think I did at all. I've done everything that they requested and no, I don't think I have at all," he said.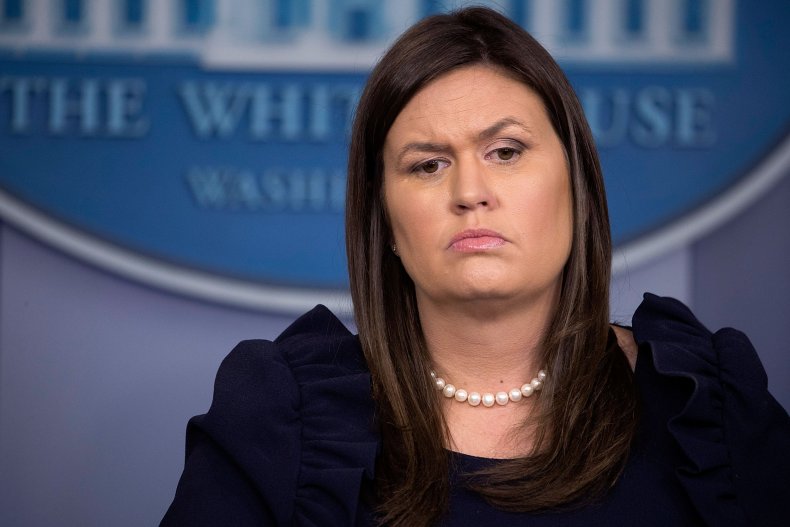 Trump and McCain often clashed, with the president railing against the senator even after McCain was diagnosed with an aggressive form of brain cancer last year.
The U.S. leader acknowledged the discord, stating: "We had our disagreements and they were very strong disagreements. I disagreed with many of the things that I assume he believed in."
The president said of McCain: "I respect his service to the country."
Asked during the Thursday interview whether Trump believed McCain, who lost the 2008 presidential election to former President Barack Obama, would have been a better leader for the nation, Trump refused to respond. "I don't want to comment on it," he said.
The U.S. leader's response did not appear to sit well with his Press Secretary, Sarah Huckabee Sanders, who Bloomberg reported stared at Trump as he asserted: "I have a very strong opinion, all right."
Trump joked that Huckabee Sanders was "having a nervous breakdown" over his response, telling the news outlet: "Maybe I'll give you that answer some day later."
Read more: Trump reportedly re-lowered flag for McCain because Sarah Huckabee Sanders told him to
Bloomberg reported that aides claim Huckabee Sanders has had to have more than one conversation with Trump over paying respects to McCain since the senator passed away.
Recent reports suggest that any "breakdown" on Huckabee Sanders's part over Trump's response to McCain's death likely started with the White House flag being raised the day after his death.
Earlier this week, The Wall Street Journal reported that the president's decision to re-lower the flag "was 99 percent" Huckabee Sanders's doing, according to an official, who spoke to the newspaper on the condition of anonymity.
The official said Huckabee Sanders had pressed Trump to lower the flag, with the help of White House Chief of Staff John Kelly, who also reportedly encouraged the U.S. leader to sign a proclamation to keep the flag lowered for McCain.
Huckabee Sanders has confirmed that she will be attending the senator's funeral on Saturday at the National Cathedral, while Trump, who was not invited to the funeral, will not be attending.
Updated: This article has been updated with more information about Sarah Huckabee Sanders.