Trump Says Sexual Assault Accuser E. Jean Carroll Is 'Not His Type,' Carroll Responds
On Monday, President Donald Trump again dismissed allegations of sexual assault from an advice columnist, saying that the woman is "not his type."
"I'll say it with great respect: Number one, she's not my type. Number two, it never happened. It never happened, OK?" the president told The Hill during an Oval Office interview.
Journalist E. Jean Carroll is the 15th woman to have accused the president of sexual assault, her account being published by New York magazine last week. The account alleges that Trump met Carroll at Bergdorf Goodman in New York City in the 1990s and that the then-real estate tycoon assaulted her in a dressing room inside the store.
The account is included in Carroll's new book, of which New York published excerpts from.
Carroll stated in the essay that she still has the coat dress she was wearing at the time of the alleged assault and that it has not been laundered because she had no desire to ever wear the dress again.
Shortly after The Hill published the interview with Trump, Carroll reacted to the president's statement during an interview on CNN's Anderson Cooper 360, saying, "I love that. I am SO glad I'm not his type. I'm so glad."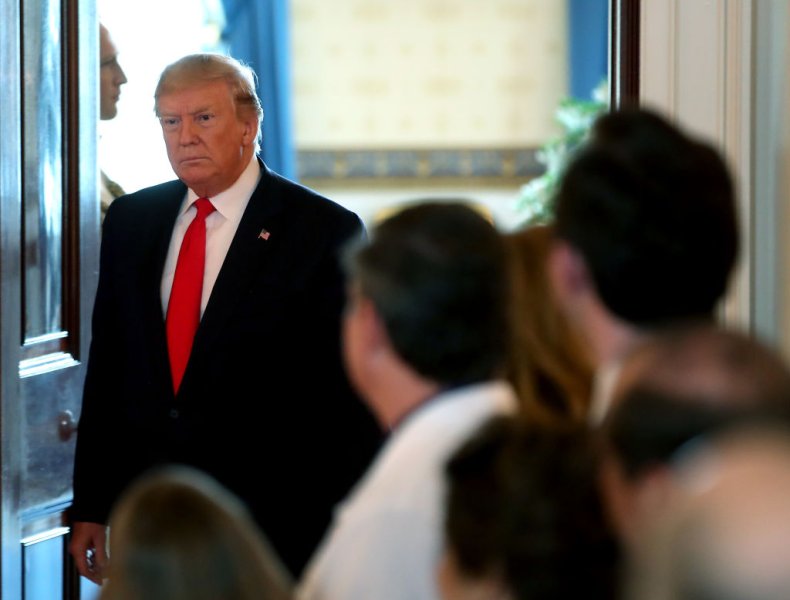 Speaking to The Hill, the president again asserted that Carroll is lying, saying that he doesn't know anything about her. "She is — it's just a terrible thing that people can make statements like that."
Trump previously issued a statement saying he has never met Carroll, though a photograph of Carroll, Trump and their then-spouses attending an NBC party in 1987 was included in the New York article.
"If anyone has information that the Democratic Party is working with Ms. Carroll or New York Magazine, please notify us as soon as possible. The world should know what's really going on. It is a disgrace and people should pay dearly for such false accusations," Trump's statement, released Friday to the White House press pool, said.
Speaking to Carroll on Monday, CNN host Anderson Cooper said that Trump's comment about the journalist not being his type is similar to comments he made regarding another accuser, Jessica Leeds. Leeds and another woman, Rachel Crooks, gave their accounts of alleged assault by Trump to the
New York Times
in October 2016.
Cooper then played a clip of Trump speaking at a rally in 2016 while he was still campaigning for president.
"She would not be my first choice, that I can tell you. Man, you don't know, that would not be my first choice," Trump said of Leeds.
After the clip aired, Carroll said that Trump had called former Miss Universe Alicia Machado fat, and referred to her as "Miss Piggy."
Cooper then read other comments Trump gave to The Hill where he insisted she is lying, and asked for Carroll's reaction.
"He's denied all 15 women who have come forward. He denies. He turns it around. He threatens and he attacks," Carroll replied.