Trump Says Stacey Abrams 'Wants Nothing to Do With' Biden After She Skips Speech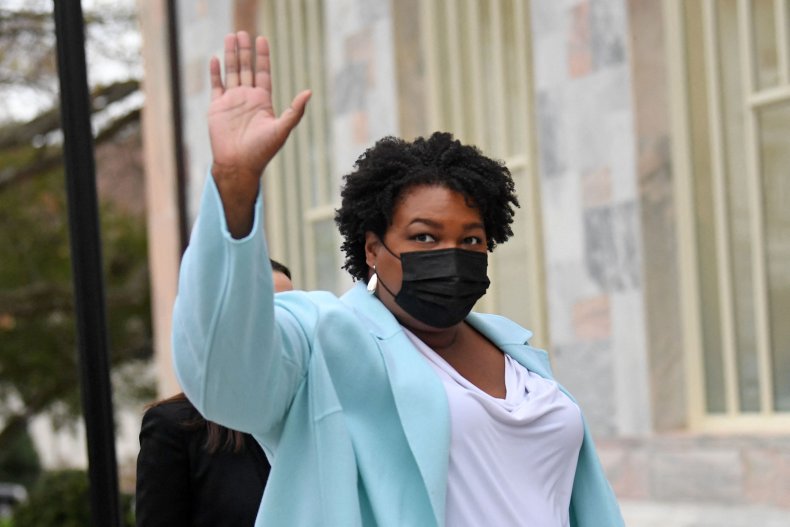 Former President Donald Trump claimed that Democratic Georgia gubernatorial candidate Stacey Abrams "wants nothing to do with" President Joe Biden after she skipped his speech in Georgia on Tuesday.
Trump insisted that Abrams and other figures associated with what he called "the woke, radical left" had come to realize that the Biden administration was "an embarrassment" in a statement issued on Tuesday. Around the same time, Biden was in Atlanta delivering a speech on voting rights without Abrams in attendance.
"Stacey Abrams helped Biden steal the 2020 Election in Georgia but now she won't even share a stage with Joe," Trump said. "Stacey knows that Biden actually lost BIG in Georgia, and in the 2020 Presidential Election as a whole, and he's been so terrible she now wants nothing to do with him. Even the woke, radical left realizes that Joe Biden's Administration is an embarrassment!"
Trump's claim about a plot from Abrams and Biden to "steal the 2020 Election in Georgia," which Biden won by nearly 12,000 votes, is false. The ex-president has repeatedly claimed that massive fraud was responsible for his failure to win a second term, despite no evidence of fraud that would have changed the election outcome being uncovered in any state.
The fact that Biden delivered his Tuesday speech in the absence of Abrams, a former state lawmaker who narrowly lost to Republican Georgia Governor Brian Kemp during the 2018 gubernatorial election, was particularly notable because she has heavily focused on voting rights during her political career. Abrams was also shortlisted to be Biden's 2020 running mate before he selected Vice President Kamala Harris.
Biden told reporters in Washington, D.C., that his relationship with Abrams was "fine" shortly before making the trip to Atlanta, maintaining that the White House and Abrams had only "got our scheduling mixed up" and that he had spoken to her "at length this morning." Abrams also blamed scheduling conflicts for skipping the speech and shared her support for Biden's visit on Twitter.
During the speech, Biden urged Democrats in the Senate to change filibuster rules to facilitate the passage of stalled voting rights legislation. Although Senate Majority Leader Chuck Schumer (D-N.Y.) responded by saying that action would be taken "as soon as tomorrow," eliminating or changing the filibuster could be a tall order due to opposition from figures like Senator Joe Manchin (D-W.Va.).
In November, an Abrams adviser who asked to not be identified told Newsweek that Abrams was planning to "run for president in 2024 if Biden does not, or in 2028 if he does"—potentially setting up a showdown with Harris, who was with Biden in Atlanta on Tuesday. The adviser also correctly predicted that Abrams would again seek the Georgia governorship weeks before she announced her 2022 candidacy.
Abrams spokesman Seth Bringman said in a statement obtained by Newsweek that "false rumors" about her intentionally snubbing Biden were "a disservice to voters across the country and a waste of time and energy amid the fight of our lives for the freedom to vote."
"An inadvertent miscommunication occurred regarding the president's visit to Georgia," Bringman said. "By the time she received an invitation, Stacey had already made a commitment she could not break, and our team shared this conflict with the White House as soon as possible."
Update 1/12, 10:59 p.m.: This article has been updated to include a statement from Abrams spokesman Seth Bringman.