Trump Says Texas Governor Assured Him Polls All Wrong, He'll Win State: 'You're Up A Lot'
President Donald Trump railed against "suppression polls" showing him either losing or tied with former Vice President Joe Biden in reliably red states, with Trump saying the Texas governor called and assured him Monday he won't lose.
Trump told rallygoers in Martinsburg, Pennsylvania, Monday that his support of oil, energy companies and fracking will lead him to victory over Biden in the Democratic nominee's home state—as well as in Texas. Trump said Texas Governor Greg Abbott responded to polls and increasing hype that the state may turn blue by calling and telling him Monday that data is simply wrong.
Biden's running mate, Kamala Harris, is set to become the highest-profile representative from the Biden campaign to visit the Lone Star State this Friday. This follows several polls which show the Democratic ticket may be in position to win Texas for the first time since 1976. Harris would also become the first Democratic vice presidential candidate to campaign in Texas since 1988, when Texas Sen. Lloyd Bentsen toured his home state while on the ticket with presidential candidate Michael Dukakis.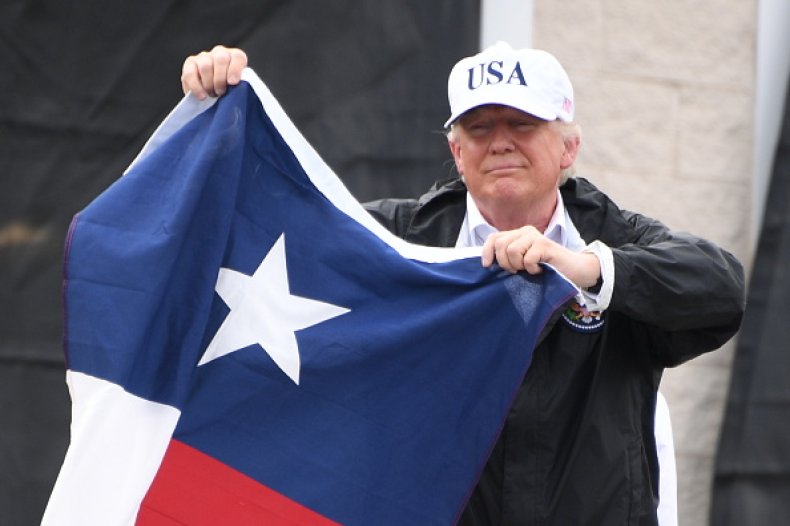 Trump repeatedly told the raucous Pennsylvania rally attendees Monday evening that Biden doesn't support "guns, oil or God" and he scoffed at the idea he could lose Texas.
"And then they say, 'President Trump is up four points in Texas' and the governor calls me from Texas, great guy Greg [Abbott], and he says, 'sir, that's not true, you are up a lot' but of course the polls won't say that. But think about it, [Biden] is against oil, he's against guns and against God - and you're in Texas!"
"You know we have polls too because the fake news is always giving fake numbers, they're really called suppression polls," Trump continued.
The Trump campaign issued a statement Sunday that the president will not make a campaign stop in Texas because they do not view it as even slightly competitive. Former Secretary of Energy and former Texas Governor Rick Perry bluntly told supporters in a Sunday call, "Texas is not a battleground state."
"Then the polls claim 'Trump is up four points, it's a very close race,' because you [in Pennsylvania] have the same thing, almost to a little bit lesser extent but Texas was just amazing, Texas and Pennsylvania I hope you're looking," he added claiming Biden will "eradicate" the state's energy production.
Biden has had mixed messages about his stance on fracking. Biden on Saturday told rallygoers in Pennsylvania flatly, "I'm not banning fracking, period." But in previous Democratic primary debates and campaign stops he has said he's open to restrictions being placed on fracking and the fossil fuel industry.
A pair of polls over the weekend showed Trump barely leading Biden, but a Dallas Morning News and University of Texas at Tyler poll released Sunday showed Biden actually ahead of Trump among likely voters, 48 to 45 percent. Although within the margin of error, a Biden win in Texas would almost guarantee he hits the necessary Electoral College votes to win, FiveThirtyEight, noted.
On Tuesday, NBC News changed their label of Texas from "leaning Republican" to "tossup" as numerous polls show the race tightening within Biden's grasp. More Texas residents have already done early voting and cast their ballots prior to Election Day than did throughout the entire 2016 process. Trump won the state over Hillary Clinton four years ago by 9 percentage points, 52.2 to 43.2 percent.
Based solely upon Texas voting history, a Democratic candidate has not won the presidential race there since Jimmy Carter did so in 1976. Trump said California "doesn't matter" in next week's election, adding that he'd vote for himself if he lived there or in New York due to "high taxes, high crime."
Citing a Rasmussen poll, Trump said it's "hard to lose when you're at 52 or 53 percent" over Biden. "Hillary [Clinton] used to campaign in California and it doesn't matter."
The #TurnTexasBlue movement was reinvigorated by Texas Democrats during the 2018 primaries in which state representative Beto O'Rourke - like most "blue wave" candidates that year - narrowly lost to Republican Senator Ted Cruz. Governor Abbott easily won re-election over his Democratic challenger in 2018 but Democrats picked up several U.S. house seats in Dallas and Houston.
Newsweek reached out to both the Biden and Trump campaigns for additional remarks Monday evening.