Trump Says Those on Grand Princess Cruise Ship Should Stay On Boat So U.S. Coronavirus Numbers Don't Go Up
During a visit to the Centers for Disease Control and Prevention in Atlanta Friday, President Donald Trump stated his preference that passengers on a cruise ship in the waters off of California remain on the boat because their entry onto U.S. soil could make the country's coronavirus statistics increase.
Vice President Mike Pence, who is in charge of the White House coronavirus task force, told reporters Friday that out of the 46 people on the Grand Princess who had been tested for coronavirus, 21 tested positive. Over 3,500 people are aboard the ship.
"Among those were 19 crew members and two passengers," Pence said. "It's important to note that the Grand Princess was actually on its second tour and we know of coronavirus infections from the first tour."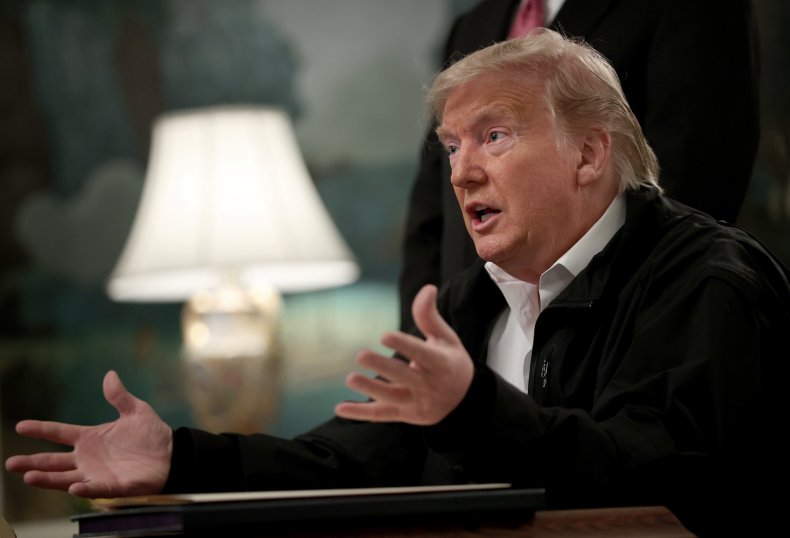 Citing collaboration with California Governor Gavin Newsom and government agencies, Pence said they "have developed a plan which will be implemented this weekend to bring the ship into a non-commercial port."
"All passengers and crew will be tested for the coronavirus," Pence continued. "Those that need to be quarantined will be quarantined. Those that need medical attention will receive it."
Trump made it clear during his comments that he would not be the one making the decision about the passengers, but that he would "rather have them stay on."
World Health Organization advice for avoiding spread of coronavirus disease (COVID-19)
Hygiene advice
Clean hands frequently with soap and water, or alcohol-based hand rub.
Wash hands after coughing or sneezing; when caring for the sick; before; during and after food preparation; before eating; after using the toilet; when hands are visibly dirty; and after handling animals or waste.
Maintain at least 1 meter (3 feet) distance from anyone who is coughing or sneezing.
Avoid touching your hands, nose and mouth. Do not spit in public.
Cover your mouth and nose with a tissue or bent elbow when coughing or sneezing. Discard the tissue immediately and clean your hands.
Medical advice
If you feel unwell (fever, cough, difficulty breathing) seek medical care early and call local health authorities in advance.
Stay up to date on COVID-19 developments issued by health authorities and follow their guidance.
Mask usage
Healthy individuals only need to wear a mask if taking care of a sick person.
Wear a mask if you are coughing or sneezing.
Masks are effective when used in combination with frequent hand cleaning.
Do not touch the mask while wearing it. Clean hands if you touch the mask.
Learn how to properly put on, remove and dispose of masks. Clean hands after disposing of mask.
Do not reuse single-use masks.
"I have great people," Trump said, "experts including our vice president who is working 24 hours a day on this stuff. They would like to have the people come off. I'd rather have the people stay but I'll go with them. I told them to make the final decision."
"I would rather because I like the numbers being where they are. I don't need to have the numbers double because of one ship that wasn't our fault," Trump continued.
"And it wasn't the fault of the people on the ship either," Trump added. "It wasn't their fault either and they're mostly Americans, so I can live either way with it. I'd rather have them stay on but I fully understand if they'd rather take them off. I gave them the authority to make the decision."
Trump also touted the availability of coronavirus tests, saying that "millions" were being manufactured.
"Anybody that needs a test can have a test," Trump said. "They're all there, they're set. In addition to that, they're making millions more as we speak."
However, senior director of infection prevention for the Johns Hopkins Health System Dr. Lisa Maragakis told Congress Friday that tests need to made available as quickly as is feasible.
"Testing capacity is not currently adequate and we need more," Maragakis said. "We need this as soon as we can have it."
Newsweek reached out to CDC for comment but did not receive a response in time for publication.
On a global scale, 102,232 cases of coronavirus have been confirmed worldwide. While 3,496 individuals have died as a result of the virus, 57,619 people have fully recovered.