Trump Says U.S. Government's 'Holding Back' 10,000 Ventilators for 'Surge' in Coronavirus Infections
During Tuesday's coronavirus task force briefing from the White House, President Donald Trump said the U.S. government is holding back approximately 10,000 ventilators as the medical community cares for patients hospitalized with coronavirus.
Ventilators have been recognized as a vital part of coronavirus care since the virus attacks the lungs. When the lungs cease to function properly, ventilators mechanically "breathe" for the patient.
"We're giving massive amounts of medical equipment and supplies to the 50 states," Trump said. "We also are holding back quite a bit. We have almost 10,000 ventilators that we have ready to go. We have to hold them back because the surge is coming and it's coming pretty strong and we want to be immediately able to move it into place without going and taking it so we're ready to go."
However, Trump said the reason for holding back the 10,000 ventilators was because of the projected surge of cases that are expected to occur over the next two to three weeks.
"It's like a reserve right now," Trump said. "It's like oil reserves except more valuable, quite frankly."
"But we have a good supply of ventilators and we're ready to go," Trump added. "We're all ready. We have trucks ready, we have everything ready because as we're saying, this could be a hell of a bad two weeks. It's going to be a very bad two, maybe three weeks. This is going to be three weeks like we haven't seen before."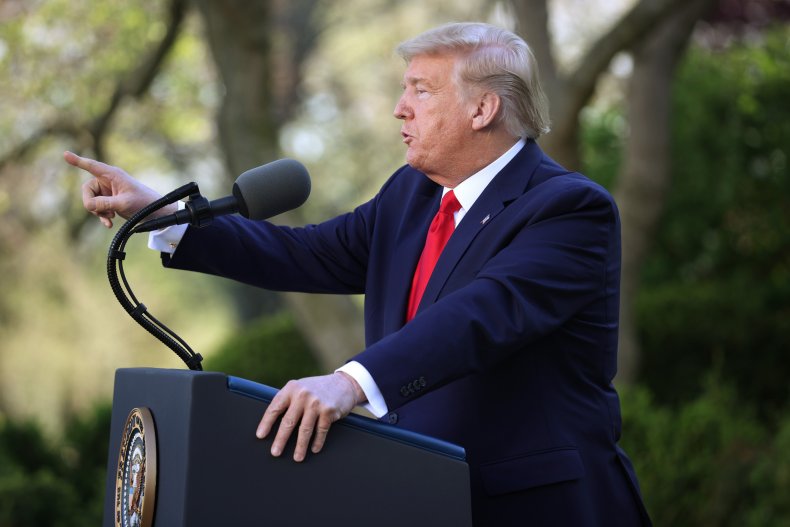 In a statement sent to Newsweek on Wednesday by FEMA Press Secretary Lizzie Litzow, the federal government has adopted a process "to manage federal ventilator resources to ensure the ventilators are shipped to the states in the amount of time needed to manage the immediate crisis. In the case of ventilators, immediate is defined as requirements necessary to sustain life within a 72-hour window."
States must provide detailed information about ventilator availability within the state, its current hospital and ICU bed occupancy rate and the number of anesthesia machines in the state, noting if they have been converted. Additionally, information must be provided about the state's established alternate care facilities or field hospitals and how many new ICU beds and ventilators or ventilator alternatives the state can stand up.
Coronavirus task force members Dr. Deborah Birx and Dr. Anthony Fauci unveiled graphs Tuesday showing the projected spread of coronavirus within the U.S. as the administration reissued coronavirus mitigation guidelines. While reiterating that social distancing can "make a difference," the models still indicated a U.S. projection of between 100,000-200,000 deaths.
"There's no magic bullet or vaccine," Birx said, "it's just behaviors."
Fauci explained the reason that the White House expanded the timeline for social distancing was based on the data. "This is not the time to take your foot off the accelerator," Fauci said.
Trump said he believed some of the guidelines proposed by the White House to mitigate the spread of coronavirus, including frequent handwashing, not shaking hands and maintaining social distance, could continue "long into the future." However, the president did caution Americans to "be prepared for the long days that lie ahead."
"We're going to go through a very tough two weeks," Trump said. "And then hopefully, as the experts are predicting, as I think a lot of us are predicting after having studied it so hard, we're going to start seeing some real light at the end of the tunnel. But this is going to be a very, very painful two weeks."
Recent data indicated 181,906 confirmed U.S. cases of coronavirus, which represents more cases than any other country in the world. While 3,655 individuals have died as a result of the virus, 6,262 people are listed as being totally recovered.
Update (9:46 p.m. EST 4/2/2020): This story has been updated to include a statement from FEMA.