Trump Says U.S. Should Have Hit Afghanistan Hard Years Ago and 'Let it Rot'
Instead of getting into a 20-year war in Afghanistan, former President Donald Trump said America should have mounted a forceful military effort years ago and then let Afghanistan "rot."
The September 11, 2001, terrorist attacks served as the catalyst for America's war in Afghanistan, but troops remained for a decade after the killing of al Qaeda leader Osama bin Laden. Americans have consistently soured on the war in Afghanistan over the years and Trump told Fox Business' Stuart Varney he never supported sending troops into Afghanistan.
"We should have hit that country years ago and hit them really hard," Trump said. "And then let it rot. We should have never done what we did."
Trump told Varney that he was an ardent supporter of leaving Afghanistan but criticized Biden for not following his plan for the withdrawal. The former president has said his strategy would have been to evacuate Americans and our allies, then military equipment and have left troops as the last phase of the withdrawal.
U.S.-funded military equipment being left behind has been a source of criticism for Biden, as it's been commandeered by the Taliban. While some of it has been "demilitarized," making it essentially inoperable, American officials have expressed concerns that the weapons could be used by the Taliban to kill civilians, fall into the hands of other militant groups who seek to attack U.S. interest in the area or be handed over to China and Russia, two of America's top adversaries.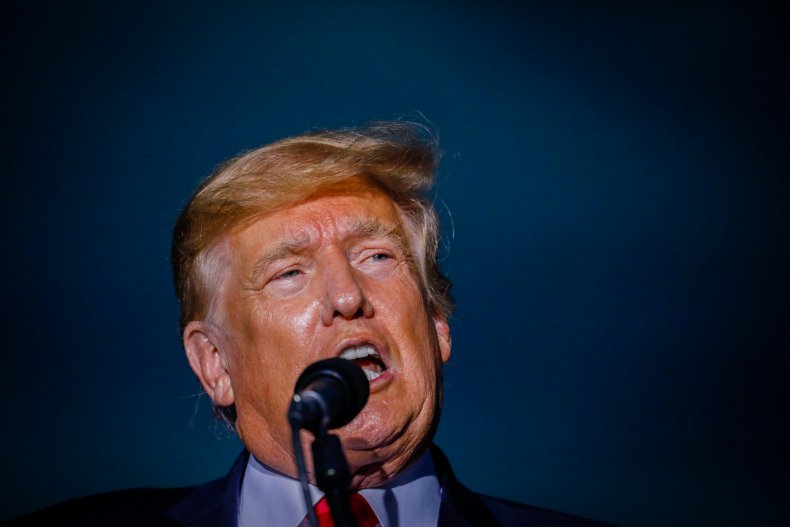 "Certainly, our objective was not to leave them with any equipment, but that is not always an option when you are looking to retrograde and move out of a war zone," White House press secretary Jen Psaki said.
Trump reiterated his calls for the U.S. to "bomb the hell out of" the equipment to ensure it can't be used against the U.S. He added that he believed China or Russia could fix helicopters that appeared to be inoperable, but General Kenneth McKenzie, head of U.S. Central Command, said the equipment likely won't be of much use to the Taliban aside from serving as trophies of the war.
Facing mounting criticism, Biden stood behind his decision to leave on the basis that keeping troops in Afghanistan for another year or another five years wouldn't have yielded a different result. He also noted that he was working up against an agreement negotiated by his predecessor.
While still in office, Trump and the Taliban agreed that American troops would leave Afghanistan on May 1. With just months to create a plan to end the 20-year war, Biden extended the deadline to August 31 and bucked calls to remain in the country beyond then. He credited the agreement with keeping U.S. troops safe, as it put a halt to the fighting, and that reneging on the withdrawal would put troops at risk.
Maintaining that the withdrawal would have looked entirely different had he been in office, Trump told Varney that Biden owes Americans and the world an "apology." He added that the chaotic departure from Afghanistan "humiliated" the U.S. and hindered relationships with its allies.
Some allies have been critical of the United States' handling of the withdrawal, but Biden denied America's strategy has had an impact on its relationships with its partners and said he's seen "the exact opposite" with allies.