Trump Says Washington Is Behind New York Criminal Probe
Former President Donald Trump believes Washington, D.C. is behind the New York criminal investigation that has led to indictments of The Trump Organization and its Chief Financial Officer Allen Weisselberg.
Trump made the remarks during an interview with Bill O'Reilly that was released online Thursday night. The former president said a similar criminal probe had "never been done" before and suggested that Manhattan District Attorney Cyrus Vance Jr., a Democrat, was part of a conspiracy to prevent him from running for another term as president in 2024.
"They say it's never been done ever in history," Trump said. "[Vance is] doing it because he's told, in my opinion, to do it from Washington. They don't want me running...He listens because maybe he'll go to work in Washington."
"It's never happened in the history of the city," he added. "I got 75 million votes. They don't want me running again. They don't want me running...A thing like this has never happened before...I don't think the people will stand for it."
Trump won 74.2 million votes in 2020, while President Joe Biden won 81.4 million. The former president also had 232 votes in the all-important Electoral College, 74 less than Biden's 306. Despite Trump's repeated claims of massive election fraud, there is no credible evidence of any fraud that would have changed the election's outcome.
Although Trump said that the alleged effort to stop him from returning to the White House was coming at the behest of Washington, specifics about the identities of those he believes are involved in the purported Washington-based plot are unclear.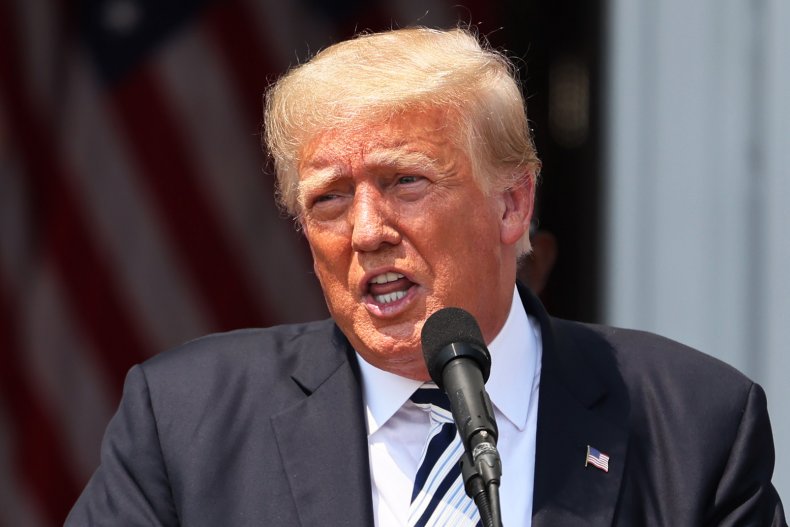 Vance is not seeking reelection in this year's Manhattan district attorney election. Any criminal proceedings from the Trump investigation are likely to continue well beyond his tenure.
Newsweek reached out to the offices of Vance and Trump for comment.
Weisselberg and the Trump Organization have pleaded not guilty to multiple charges related to an alleged scheme to illegally avoid around $1.7 million in taxes. The grand jury is slated to sit until November, raising the possibility that further charges, including potentially against Trump himself, could be forthcoming.
Prosecutors may be hoping to convince Weisselberg and any others charged in the probe to "flip" on Trump to bolster a case against him. Experts have said that the former president's daughter Ivanka Trump, who has been paid potentially suspect "consulting fees" by the Trump Organization, could be the next target for Vance.
"The other person who I think is in peril is Ivanka Trump," Trump biographer Michael D'Antonio recently told CNN. "We know that Ivanka Trump got quite significant sums paid to her as non-employee compensation that freed the Trump Organization from paying part of her taxes. And it put her in a status that I think the IRS would have lots of questions about."