President Donald Trump addressed reporters at the White House on Tuesday evening to talk about steps in rebooting the American economy amidst the worldwide coronavirus pandemic. That meant layered discussions with business and municipalities all across the spectrum, including the sports world.
"We want to get our sports back," Trump said. "So importantly. ... We have to get our sports back. I'm tired of watching baseball games that are 14-years old. But I haven't actually had too much time to watch. I would say maybe I watch one batter and then I get back to work."
Major sports leagues in America began shutting down, one-by-one, starting when the NBA indefinitely postponed its regular season and subsequent playoffs on March 11 after a player from the Utah Jazz tested positive for COVID-19, also known as coronavirus.
One day later, the NHL suspended its season, Major League Baseball canceled the remainder of its spring training and delayed opening its season, and the NCAA canceled its men's and women's basketball tournaments. The NCAA also canceled championships for all spring sports, including baseball, softball, lacrosse and track.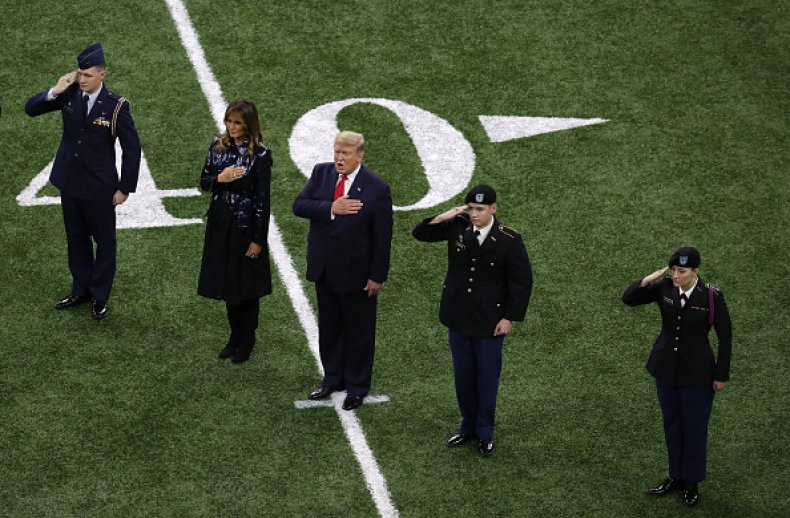 Many major sporting events around the country, and the world, have either postponed until the fall or canceled altogether, all because of the sudden outbreak of the virus.
The coronavirus was first detected in Wuhan, China during late 2019, and by April 14, nearly 2 million people worldwide have tested positive for the virus, and there have been more than 126,000 deaths around the globe.
In the United States, there have been more than 612,000 cases—the most by any country. The U.S. has more than 25,000 deaths so far, which also leads all countries.
President Donald Trump said on March 29 he expects the number of cases and deaths in America to peak by April 12, and that the social distancing guidelines have been extended to April 30. Trump also said he expects a "full recovery" by June 1.
Trump said he will have phone calls with commissioners and owners from major sports leagues in the country, and the first person he mentioned was the NBA's Adam SIlver. He then went on to baseball.
"Major League Baseball. We miss our baseball, well this is baseball season right here," Trump said as he waved his arm around while standing on the White House lawn during the press conference. "[MLB commissioner] Rob Manfred, thank you, very much."
Trump went on to thank various professional sports and entertainment leagues, and their commissioners, including:
NFL (Roger Goodell)
UFC (Dana White)
PGA (Jay Monahan)
LPGA (Michael Whan)
USGA (Patrick Galbraith)
MLS (Don Garber)
WWE (Vince McMahon)
NASCAR (Lesa Kennedy)
NHL (Gary Bettman)
Trump then singled out individual team owners from the NFL and NBA.
New England Patriots (Bob Kraft)
Dallas Cowboys (Jerry Jones)
Dallas Mavericks (Mark Cuban)
There is no set timetable when sports will emerge in America again, but it's clear that the president has it in mind when trying to reopen both the country and the economy.
Uncommon Knowledge
Newsweek is committed to challenging conventional wisdom and finding connections in the search for common ground.
Newsweek is committed to challenging conventional wisdom and finding connections in the search for common ground.
About the writer
Scott McDonald is a Newsweek deputy night editor based in Cape Coral, Florida. His focus is assigning and writing stories across all topics, from news to politics, business, weather, sports and international news. Scott joined Newsweek in 2018 after a lengthy career of print journalism in Texas, including The Dallas Morning News, where he was a sportswriter, and he's a voter for the Heisman Trophy. He has been a newspaper editor-in-chief and also a newspaper publisher. He is a graduate of The University of Texas at Austin. You can get in touch with Scott by emailing s.mcdonald@newsweek.com. Languages: English