In his latest pitch to suburban housewives, President Donald Trump on Tuesday afternoon vowed that his administration would "get your husbands back to work" amid rising pandemic-related job losses that have disproportionately affected women.
"I love women and I can't help it, they're the greatest," Trump said at a campaign rally in Lansing, Michigan. "I love them much more than the men."
"We're getting your husbands—they want to get back to work, right? We're getting your husbands back to work," the president added.
The economic fallout of the ongoing COVID-19 outbreak has had a disproportionate effect on American women due to their prevalence in industries hit hardest by the pandemic. An August report, released by the National Women's Law Center (NWLC), found that job losses among women made up 53.6 percent of overall rates despite the demographic only accounting for 49.7 percent of the total workforce.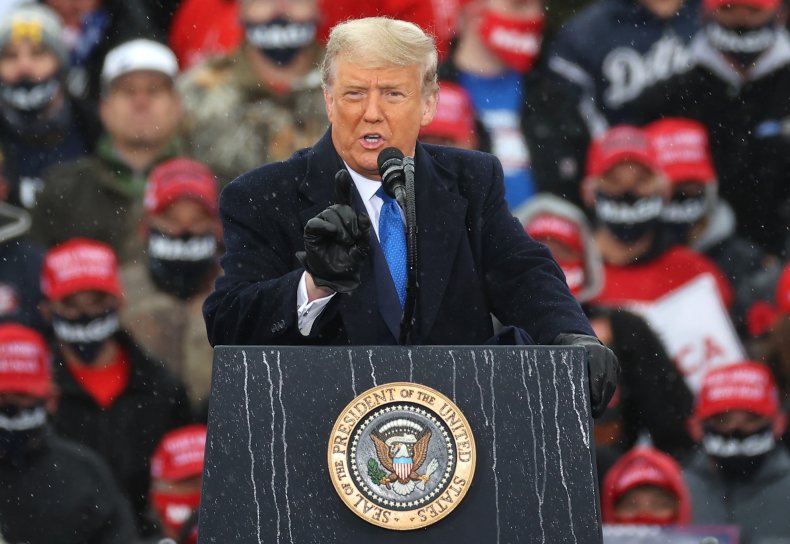 The U.S. has recovered a significant number of jobs lost between February and April, but recovery for women is lagging. Women accounted for 865,000 of the nearly 1.1 million people who left the labor force between August and September, according to an NWLC analysis. The figure was four times higher than the 216,000 men that dropped out during that period.
A breakdown of the unemployment rate showed that Black and Latina women were much more affected than white men and women. In September, the unemployment rate among both minority demographics were at around 11 percent, compared to 6.5 percent among white men and 6.9 percent among white women.
Trump has ramped up his appeal to suburban women in the final stretch of the race. Some experts say white suburban Republican women unhappy with the president's job performance could turn to vote for his moderate Democratic opponent Joe Biden. This political shift could offset the ground that Trump made among working-class men four years ago.
Suburban women constitute a key voting bloc in some states, including the crucial battleground Pennsylvania. Pollsters have indicated that the group could be the tipping point in the swing state that the president won by one point in 2016.
Trump begged the demographic to vote for him during a campaign rally in Johnston, Pennsylvania earlier this month. "Do me a favor, suburban women, would you please like me?" he said. "I saved your damn neighborhood, okay?"
Recent polls show Biden leading nationally among suburban women with 60 percent of support. In 2016, Democratic candidate Hillary Clinton won about 52 percent of the voting bloc, according to Pew Research Center.
Newsweek reached out to the Biden campaign for comment.