Trump Says White House Doctor Ronny Jackson 'Loved Looking at My Body'
Former President Donald Trump headlined the annual Conservative Political Action Conference (CPAC) on Saturday night in Dallas. As he does with most of his weekend rallies, he spoke in-depth about a wide array of topics, including himself.
After introducing former White House doctor Ronny Jackson to the crowd, Trump talked about the physical exams he received while in office.
"He loved looking at my body. It was so strong," Trump said. "But he said I'm the healthiest president that's ever lived. I was the healthiest. I said, I like this guy."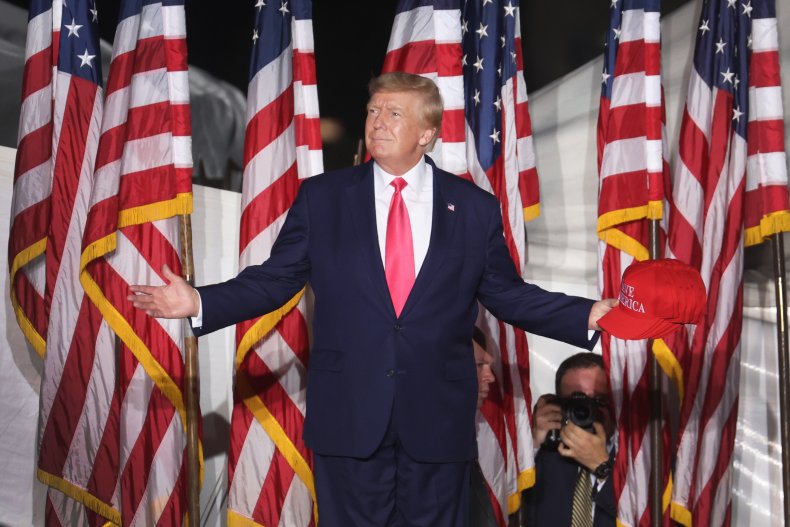 Aside from being a physician, Jackson is a former rear admiral in the U.S. Navy, and he now represents the 13th Congressional District in Texas, which is in West Texas around Levelland.
Jackson is clearly a Trump ally, and the Texas representative took a swipe at President Joe Biden's administration via Twitter. Jackson even took a jab at "mask mandates."
"This administration is hellbent on DESTROYING our military. CRT, vaccine mandates - they're doing everything EXCEPT keeping us safe. If we're going to save the military, we need a RED WAVE in November!"
Trump hit all of his usual talking points while rallying the conservative base. These included the economy, America becoming energy independent again, "fake news," strengthening the southern border, taking guns "away from criminals," the war in Ukraine, a looming conflict between China and Taiwan, men playing women's sports, and, as always, taking shots at Biden and Speaker Nancy Pelosi.
"Crazy Nancy Pelosi. What was she doing in Taiwan?" Trump said. "That woman brings chaos."
Though the former president hasn't said he will run again in 2024, he's floated the idea out there several times this year, including Saturday night.
"I ran twice, I won twice. I did much better the second time," Trump said. "And now, we may have to do it again! We are going to make America great again. But we have to make America safe again first."
Trump said America should "leave the police alone" to do their job.
"Instead of taking the guns from law abiding Americans let's take them away from criminals," Trump said.
Newsweek reached out to the White House for comment.
Trump brought female swimmer Riley Gaines on stage to talk about keeping men out of women's sports. Trump called Gaines, who's one of the most-decorated women's swimmers in the history at the University of Kentucky, "brave."
Then Gaines spoke to the crowd for a brief moment.
"Basically, all I want to say is that it takes a brain and common sense and fifth grade biology level understanding to realize this is blatantly unfair. It's completely obvious," Gaines told the crowd. "And so I spoke earlier today and I said a lot so I'll keep it short, and I'm just gonna say keep female sports female."
Hosted by the American Conservative Union, the annual CPAC is one of the largest gathering of conservatives in the world. This year, it was a way for conservatives to springboard momentum heading into the 2022 midterm elections.