Trump Says Widespread Coronavirus Testing 'Would Never Happen' and Isn't Needed To Reopen Country
President Donald Trump on Thursday said a widespread COVID-19 testing program to assess whether workers can safely return to their workplaces is "never going to happen" in the United States.
As he addressed reporters during the daily White House Coronavirus Task Force briefing, Trump touted the fact that 2 million Americans had been tested for the virus as a "milestone" in the U.S. fight against the global pandemic caused by SARS-Cov-2.
The 2 million tests that have been administered so far represents a high water mark after weeks of problems in obtaining and administering tests caused by the Trump administration's rejection of a test developed by the World Health Organization. However, that number means only .61 percent of the 330 million U.S. population has been tested for COVID-19.
That's a paltry number compared to many other countries which have implemented testing programs. Italy, for example, has administered tests to approximately 1.4 percent of its population, and South Korea, which flattened its infection curve with widespread testing, has reached .9 percent of its population.
Most public health experts have stressed the need for the U.S. to significantly expand its testing program, both with currently available tests to determine whether a given person is infected with SARS-Cov-2, and with so-called "antibody tests" to determine whether a person has successfully fought off the virus and is therefore immune to it.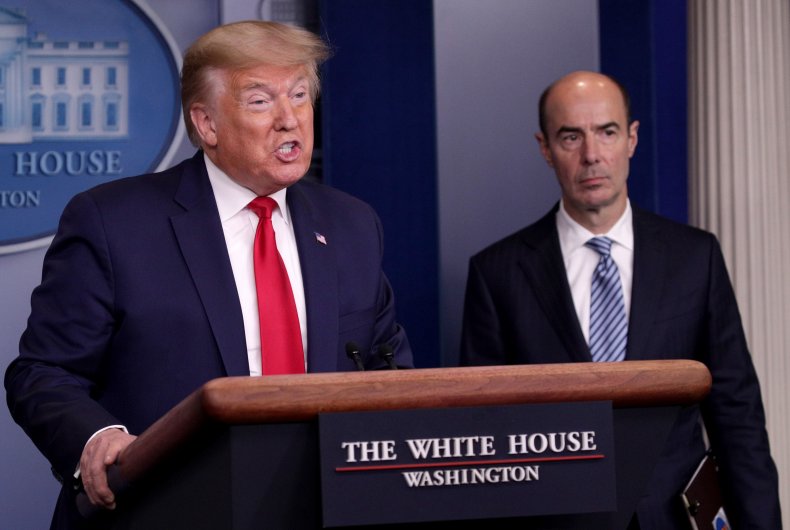 Both varieties of test, experts say, must be administered in far greater quantities than currently being done in order to allow Americans to return to work without fear of infection, though Trump has repeatedly suggested that the U.S. could begin to emerge from social distancing measures within a few weeks.
But when asked how his administration could discuss "reopening" the U.S. economy without an adequate testing program in place, Trump claimed that such a program was not just unnecessary, but was something that was simply not in the cards.
"Do you need it? No. Is it a nice thing to do? Yes," Trump said.
"We're talking about 325 million people, and that's not going to happen," he continued, adding later that testing at such a high rate "would never happen with anyone else, either," and claiming that the countries that have implemented such programs "do it in a limited form" and that the U.S. would soon be "the leader of the pack" on testing.
Correction (4/9/2020, 11:00 p.m.): This article was updated to correct mathematical errors in the percentages of those tested.