Trump Says Young People Test Lower For COVID While Military Shows Differently
On Thursday, a medical official with the U.S. Department of Defense (DOD) said that 18- to 24-year-olds in the military are testing positive for the COVID-19 coronavirus at more often than civilians of the same age.
The information contradicts a claim made by Republican President Donald Trump at a Thursday evening White House coronavirus briefing.
"Young people are almost immune to this disease; the younger, the better," Trump said. "They have a stronger immune system... If you look at the percentage it's a tiny percent of 1 percent."
Speaking to reporters on Thursday, Air Force Brigadier General Paul Friedrichs, surgeon of the Joint Staff—the body of the DOD's most senior uniformed leaders who advise the president and other federal security officials on military matters—said that the military's recorded infection rate for troops aged 18 to 24 is slightly higher than for the same age group nationwide.
Newsweek subscription offers >
Friedrichs didn't reveal the military's exact infection rate for the age group, according to Military Times.
Because the U.S. Centers for Disease Control and Prevention (CDC) doesn't post data about infections by age, it's impossible to calculate the national infection rate for people aged 18 to 24.
"We believe that the slightly increased confirmed case rate in that age group is a result of the success of ... allowing us to test at the entry to basic training, at the exit to basic training and at many other points in an active-duty service member's career," Friedrichs told reporters on Thursday.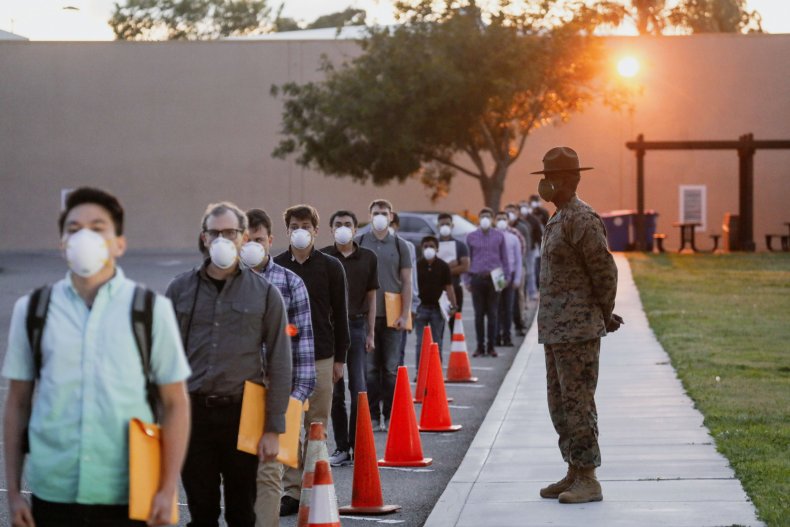 Newsweek subscription offers >
Information from the California Department of Public Health of health suggests that people ages 18 to 24 are more susceptible to coronavirus than Trump and others might think.
Data from the California Department of Public Health shows a total of 34,432 COVID-19 cases among children ages five to 17 in the state. That number is higher than the state's case numbers for five groups aged 60 and above.
On March 18, Mike Ryan, the head of the World Health Organization's emergency program also warned severe cases of COVID-19 aren't limited to older people.
"This isn't just a disease of the elderly," Ryan said. "There is no question that younger, healthier people experience an overall less serious disease, but a significant number of otherwise healthy adults can develop a more severe form of the disease."
At the start of July, officials in the Marines and Navy said that safety prevention measures for preventing the spread of COVID-19 made both military branches scramble for cheaper alternatives as their budgets were in danger of running out.
More funding could be made available since the June 21 passing of a national defense bill.
Trump Says Young People Test Lower For COVID While Military Shows Differently | U.S.