Trump Tells Steve Scalise That Getting Shot Was 'A Hell of a Way to Lose Weight'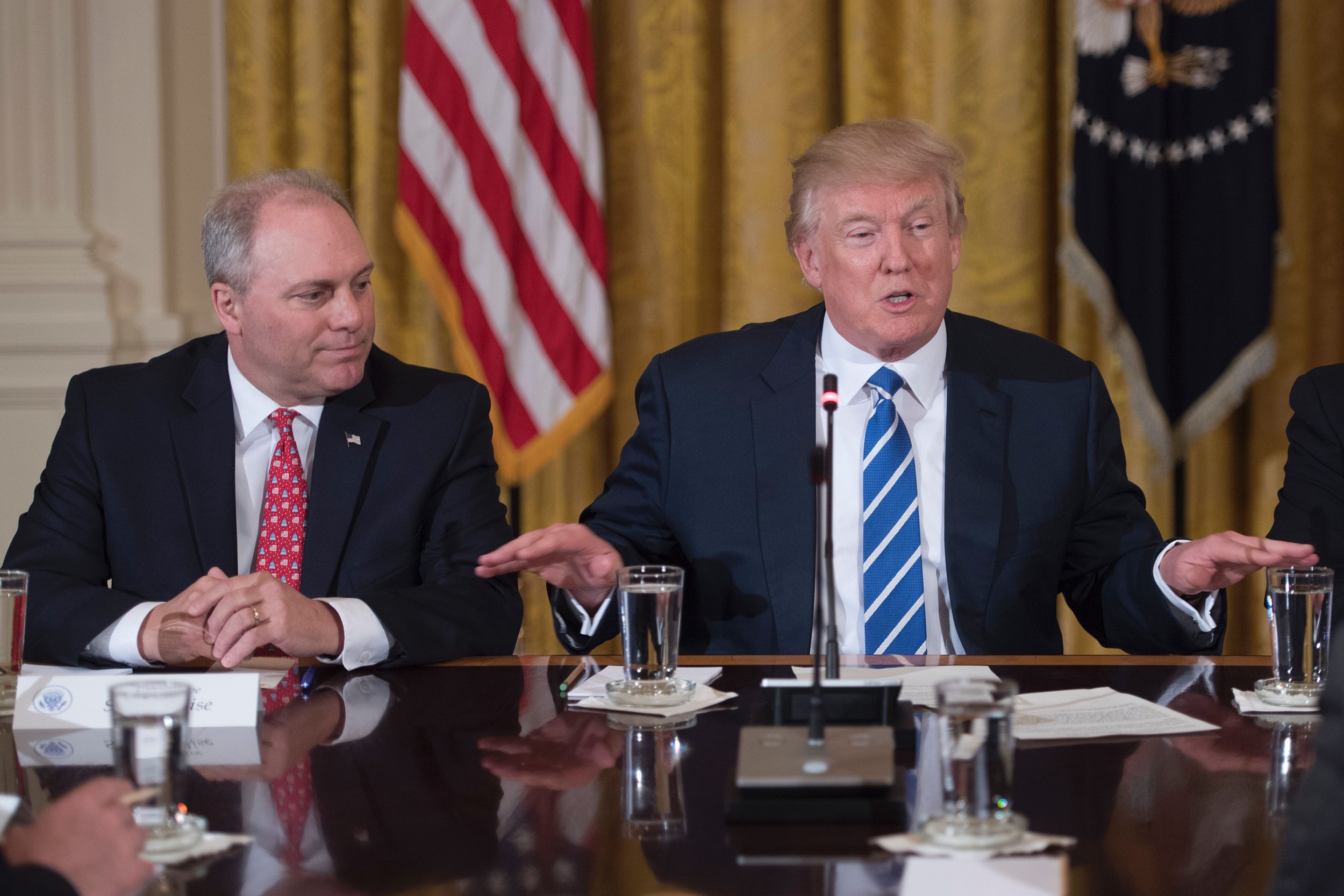 Updated | President Donald Trump said at the White House Wednesday that Representative Steve Scalise getting shot over the summer was "a hell of a way to lose weight."
"He had a rougher year than most of us, but that's a hell of a way to lose weight, Steve," Trump said about the Louisiana Republican during a celebrating with fellow GOP members after Congress passed a massive tax overhaul.
Though Trump's remark was widely criticized on social media, it is apparently a joke Scalise has also made out of the public eye, according to Paul Kane of The Washington Post, who tweeted, "This is a joke/remark that Scalise has made privately. I bet he's made it to Trump, but without much of a filter, Trump blurts it out at this moment in awkward fashion."
Scalise, the House Majority Whip, was among four people who were shot and wounded at a baseball field Alexandria, Virginia in June by a man who had ranted online about Trump and the actions of the GOP through the year. Scalise was rushed to a hospital in critical condition and spent nearly three months recovering before he returned to the House.
The tax bill, which is the first significant piece of legislation passed since Trump became president, cuts taxes mostly for wealthy Americans and corporations. Though the tax bill is set to cut taxes for all Americans in the short-term, it is expected to take a financial hit on about half of Americans in the long-term. By 2027, this group of Americans will likely see its taxes rise.
The bill also repeals the Affordable Care Act's individual mandate, which could leave up to 13 million people uninsured in the next decade, according to the nonpartisan Congressional Budget Office.
Early on Wednesday, Trump decried the media for allegedly demeaning the tax bill, tweeting, "The Tax Cuts are so large and so meaningful, and yet the Fake News is working overtime to follow the lead of their friends, the defeated Dems, and only demean. This is truly a case where the results will speak for themselves, starting very soon. Jobs, Jobs, Jobs!"
Update: This article has been updated to include a claim that Scalise has previously made this joke privately.