MSNBC host Joe Scarborough commented on a new poll that showed Donald Trump's approval rating dropped 5 percent since the release of the Mueller report, saying Americans see the president is a "scam" and are now "punishing" him.
Scarborough, who formerly served as a Republican in Congress but officially left the party in 2017 to become an Independent, made the comments on his MSNBC show Morning Joe on Tuesday. The new poll—conducted by Politico and Morning Consult and released Monday—showed that only 39 percent of voters currently approve of the job Trump is doing. Meanwhile, 57 percent disapprove of the president.
Scarborough pointed out that Americans were certainly aware that many people associated with Trump have gone to jail or made deals with the FBI throughout special counsel Robert Mueller's 22-month investigation. "The report showed one lie after another lie, after another lie," Scarborough pointed out.
"Here you have this poll, where Trump usually does better...from what I've seen," the host continued. "But here you have him in this poll, once again dropping to an all-time low, lowest since Charlottesville."
"Donald Trump, the outsider, has become Donald Trump, the government insider," Scarborough alleged, "who has rigged the system for himself. And Americans see it, they know it's a scam, they hear him lying about it, and they're punishing him at the polls."
Journalist Willie Geist then jumped in to comment, saying: "Those are terrible approval numbers. Let's just put it bluntly."
As Scarborough explained, the president's approval rating sank to its lowest level, according to the poll, equaling his low-water mark, which came after he defended white supremacist protesters after an anti-racism demonstrator was killed in Charlottesville, Virginia, in 2017. However, despite Trump's significant dip in approval from voters, only 34 percent of respondents said that Congress should begin impeachment proceedings. That's also a drop of 5 percent since January.
On Monday, the MSNBC host lit into Trump in the wake of the Mueller report. Scarborough pointed out that he served in Congress as a Republican during the impeachment hearings for former President Bill Clinton, and had supported the decision to impeach. He argued, however, that the evidence laid out against Trump in Mueller's report regarding the president's efforts to allegedly obstruct justice was far worse than the allegations about Clinton's actions. Scarborough said the accusation against the former president "pales in comparison" to the allegations against Trump.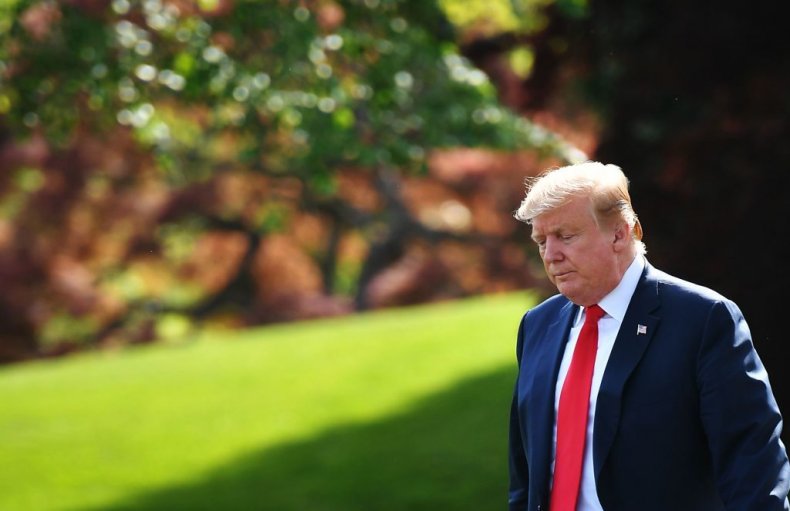 Representative Elijah Cummings, a Democrat from Maryland who chairs the House Judiciary Committee, agreed with the host during the Monday segment. He said Trump's actions were "at least 100 times worse." Scarborough then echoed his words in response, saying, "At least, at least."
Attorney General William Barr released a redacted version of Mueller's more than 400-page report last Thursday. The document, which was submitted to the Justice Department in March at the conclusion of the probe, explained that investigators did not establish Trump or his campaign had conspired with Russia during the 2016 presidential election. It also did not determine whether or not the president had obstructed justice by interfering in the investigation. After reviewing the report, Barr and Deputy Attorney General Rod Rosenstein concluded that the president had not committed a crime.
Trump and his supporters have said Mueller's report represents a "total exoneration," but that assessment goes against the documents' own wording, which clearly states it "does not exonerate" the president. Many prominent Democrats, including top 2020 contenders, have called for Congress to push for impeachment. But Speaker of the House Nancy Pelosi, a Democrat from California, has pushed back against the suggestion, believing it would be better to defeat Trump in the upcoming election.