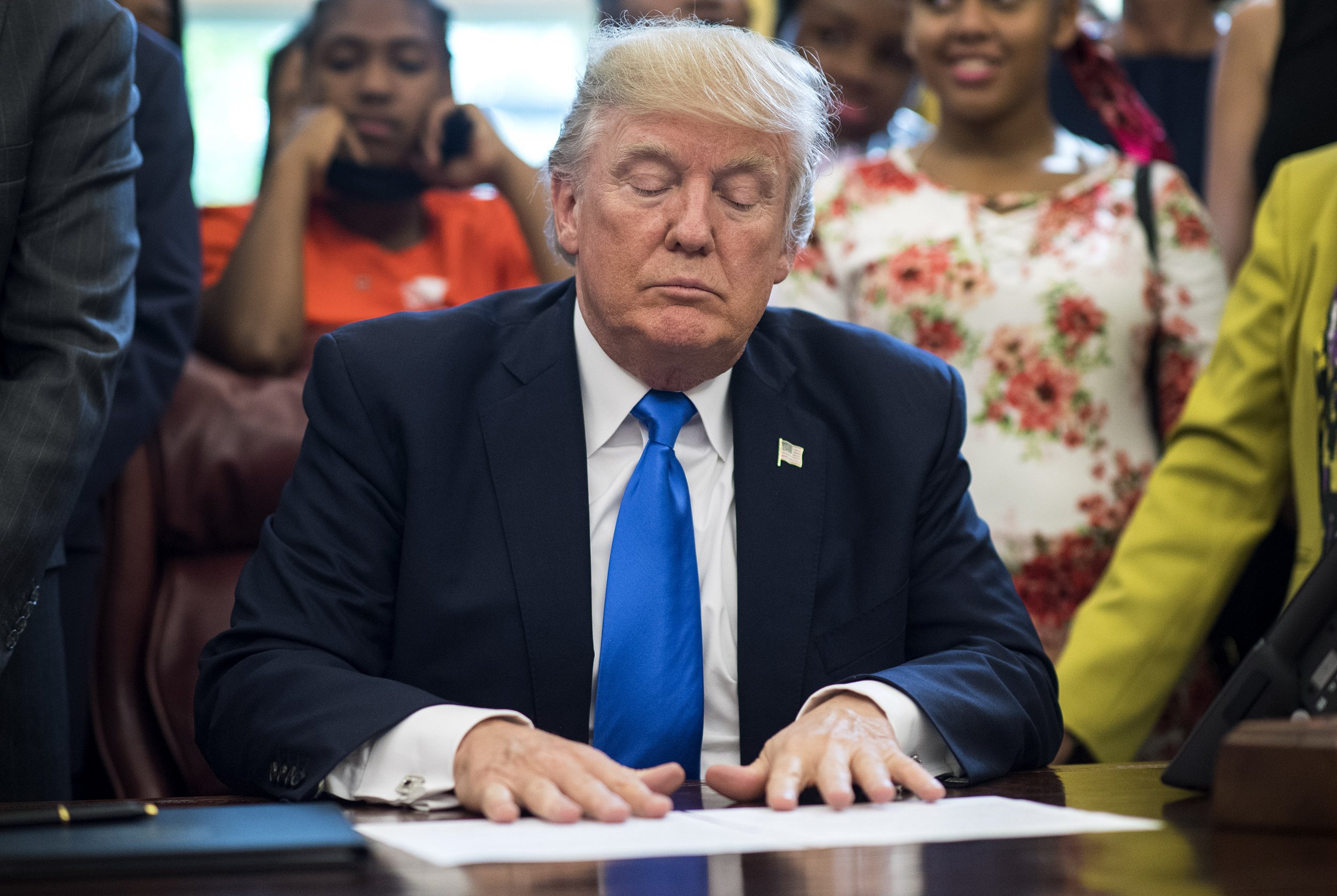 Donald Trump has said he is a germaphobe who washes his hands frequently throughout the day and needs to drink through a straw because he wants to avoid contamination.
The president discussed his obsessive-compulsive tendencies during the course of 15 hours of interviews with The Howard Stern Show between 1993 and 2015 that have been obtained exclusively by Newsweek.
In a 1993 interview, Stern said: "Today, we learned some interesting things [about Donald Trump]: He's very wealthy and yet he's a prisoner of obsessive-compulsive disorder."
Trump was asked: "You have to wash your hands, how many times a day?" He responded: "Well as many as possible."
The Republican also said he liked to drink through a straw rather than straight out of a glass.
"I'd prefer drinking through a straw if I'm going to a restroom," he said.
Stern asked: "Because you are afraid that the glasses can be contaminated?"
"They certainly can be," Trump replied.
The host told Trump that his obsessive hand washing could be a sign of a psychological problem, to which Trump responded: "It could be a psychological problem," adding that he had managed to sit through the interview without leaving to wash his hands.
"I like it. I like cleanliness. Cleanliness is a nice thing. Not only hands, body, everything," Trump added, telling Stern he had never sought professional help for his compulsive behavior.
The pair also discussed urinals, with Trump telling Stern he often had people come up to shake his hands after they had used the bathroom and held onto the urinal for support.
"OK, now tell me, tell me, you ever watch, I watch in amazement. They're standing there grabbing the urinal for balance," Trump said.
"And then they come up and they say, 'Mr. Trump I'm a big fan. I'd like to shake your hand….' I may be a bad guy, when you say excuse me, you were just holding the urinal," he continued.
The president added he didn't believe people knew what they were doing, explaining: "They go up and they, they want to shake your hand. They're not doing it to be bad people."