Donald Trump Was Scared North Korea Fired Missiles After Watching Old Footage on Fox News, Says Lindsey Graham
President Donald Trump was afraid North Korea had fired missiles at the United States as he watched old footage from Kim Jong Un's regime on Fox News, according to Senator Lindsey Graham of South Carolina.
In an interview with The Washington Post released on Friday, Graham described a scene in which he, Trump, former chief of staff Reince Priebus and former national security adviser H.R. McMaster were having lunch at the White House.
Graham said a television was tuned to the president' favorite cable news network, and Trump mistook the video for an apparent real strike against the U.S. by Kim. Graham laughed about the incident to the Post saying he quickly calmed Trump.
"That's old footage, old footage!" Graham said he told Trump.
The group had met to discuss national security, with Graham telling Trump that North Korea and Iran were his most important issues. Trump had campaigned on ending the Iran nuclear deal put in place by President Barack Obama, placing him and Graham on somewhat common ground.
The report largely focused on Graham's transformation from a sharp critic of Trump's in 2016 to one of his strongest public allies. Of late, that has taken form in the Senate Judiciary Committee and the approval process of Judge Brett Kavanaugh to the Supreme Court.
Graham has ripped Democrats for what he labeled a "smear campaign" against Kavanaugh in an attempt to "destroy his life," language Trump had also used while defending his second nominee to the court.
But the minor incident involving Fox, the North and Trump came well before the current president had fully engaged and even threatened Kim's regime with "fire and fury."
The tough-talk exchanges over Trump's Twitter account and Kim's state-run propaganda machine did somewhat heighten fears of a conflict between the two nuclear states, especially with Trump referring to Kim as "Little Rocket Man" on several occasions.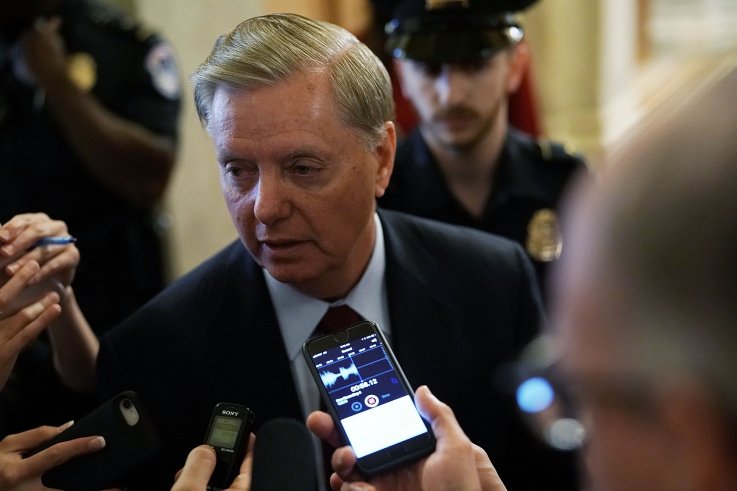 After a difficult 2017, Trump and Kim eventually made apparent inroads to somewhat normal relations following their summit in Singapore back in June.
While Trump's opponents have said the meeting served little purpose other than emboldening Kim, the president did secure the return of remains of U.S. soldiers killed during the Korean War, and Kim has started to warm to South Korea and its President Moon Jae-In.
Kim agreed with Moon last month to shutter its main missile-building and nuclear facilities if the U.S. also agreed to "corresponding measures," a term that has yet to be defined.
Donald Trump Was Scared North Korea Fired Missiles After Watching Old Footage on Fox News, Says Lindsey Graham | U.S.