Donald Trump Says He Has 'Natural Instinct for Science' While Challenging Climate Change Research
President Donald Trump told the Associated Press he has a "natural instinct for science" that enables him to see through the alleged political motivations of climate scientists.
"You have scientists on both sides of it. My uncle was a great professor at MIT for many years, Dr. John Trump," he said in an interview published Wednesday, Politico reported. "And I didn't talk to him about this particular subject, but I have a natural instinct for science, and I will say that you have scientists on both sides of the picture."
He also said that the climate "goes back and forth, back and forth," denying the scientific consensus that human activity is driving global environmental shifts. His statements contradict the U.S. government's Climate Science Special Report from 2017, which said "it is extremely likely that human activities, especially emissions of greenhouse gases, are the dominant cause of the observed warming since the mid-20th century."
The president described himself as an environmentalist in the interview.
"Everything I want and everything I have is clean. Clean is very important—water, air," Trump said. "I want absolutely crystal clear water and I want the cleanest air on the planet and our air now is cleaner than it's ever been. Very important to me."
But he said he was not willing to pay the amount of money needed to fight climate change. "What I'm not willing to do is sacrifice the economic well-being of our country for something that nobody really knows."
A 2017 report from the Universal Ecological Fund said that climate change-linked weather events have cost the U.S. at least $240 billion each year over the last decade.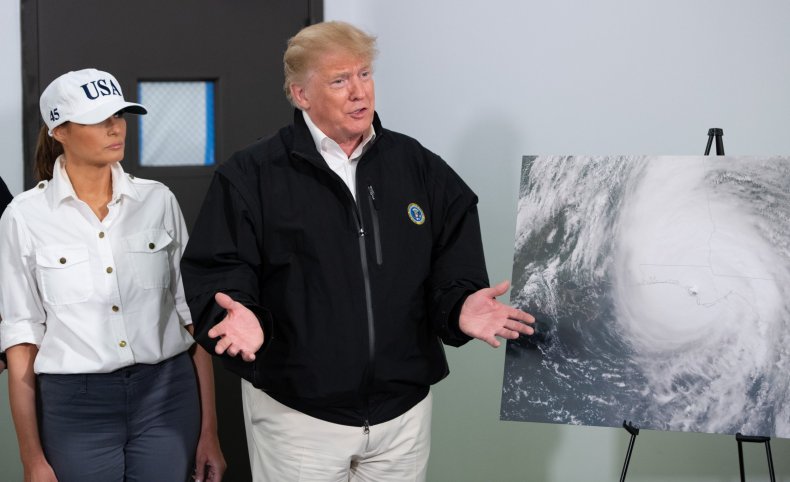 The president's statements follow remarks he made on CBS's 60 Minutes, in which he said that climate change is not fake, a departure from his former statements calling climate change a "hoax." However, he maintained that shifting weather patterns might not be anthropogenic. He also claimed that scientists "have a very big political agenda."
Trump has previously made false statements about the human involvement in melting ice caps and given misleading remarks about the strengthening hurricanes, which scientists have tied to climate change.
The United Nations Intergovernmental Panel on Climate Change released a dire report earlier this month warning of looming environmental disasters that could affect hundreds of millions of people.
The New York Times reports that long-term average global temperatures have increased over the last 115 years.
Despite mounting evidence detailing rising sea levels, declining sea ice and rising carbon dioxide levels in the atmosphere, a significant amount of the U.S. public is skeptical about climate change.
In a 2014 study of 20 countries, the U.S. had the largest proportion of people who still deny science about climate change.