Trump's Scotland Golf Resort Lost $1.3 Million Last Year, Has Not Made a Profit for Seven Years
While President Donald Trump is currently embroiled in an impeachment inquiry after he asked Ukraine to mount an investigation into Hunter Biden, the son of Democratic Presidential candidate Joe Biden, there is also bad news for him on the business front, as it has been revealed his golf resort in Scotland has made losses for the seventh year in a row, according to the latest published accounts.
The president's Trump International Golf Links Firm at the Menie Estate in Aberdeenshire made an annual loss of £1.07 million ($1.32 million) in 2018, the seventh consecutive year the resort has failed to make a profit, in documents obtained from the U.K. government's Companies House that were first reported by The Scotsman.
The documents also reveal that the resort received a $50 million interest-free loan from Trump himself and that 77 people are employed by the business, seven people fewer than the previous year. In 2017, the company made losses of $1.5 million, with 84 people employed at the resort.
The news comes following a proposal by Trump International to develop 500 homes, 50 hotel cottages, retail spaces and other facilities on the Menie Estate being approved by councillors on September 26, despite thousands of objections. Aberdeenshire councilors voted 38 to 24 in favor of Donald Trump's company's $185 million development proposals for a 'Trump Estate,' even though the local authority received 2,918 valid objections to the plans regarding its environmental impact and the affordability of the housing on the site.
Sarah Malone, executive vice president of Trump International, Scotland said in a statement: "Today the majority of Councilors supported the application and acknowledged the significant economic benefits our property brings to the region, particularly given the challenges the North East economy has faced in recent years."
Local councilor Isobel Davidson told Newsweek at the time she voted in favour of the Trump Estate plans because the development and its potential for tourism was enough to persuade her.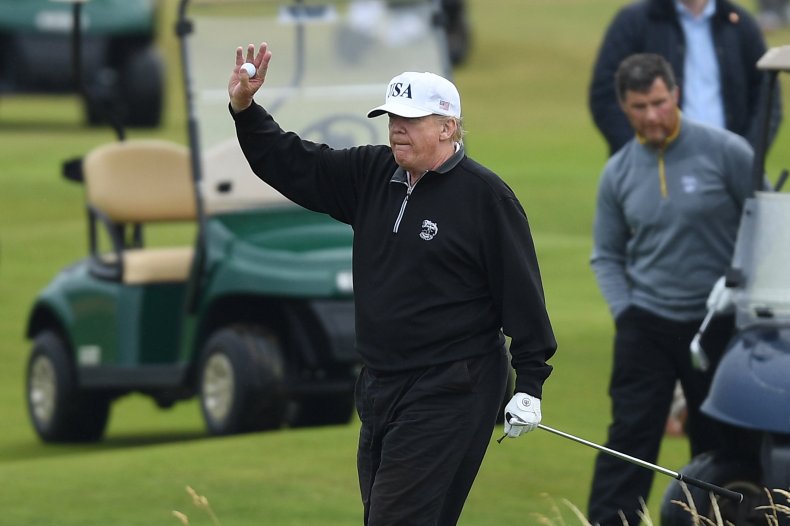 Councilors also approved an application by Trump International to build a second 18-hole golf course on the estate called the MacLeod course, after the president's Scotland-born mother Mary Anne MacLeod.
Trump first unveiled plans for the $1.23 billion Trump International Golf Links project back in November 2006, despite an environmental impact report warning that the development posed potential threats to local wildlife. A year later local councillors made the surprising decision to turn down the plans, leading the Scottish government to make the unprecedented move to step in and decide whether the project would go ahead, according to the BBC.
In November 2008 the controversial plans were officially approved. After four years of construction members of the public teed off for the first time on July 15, 2012.