Trump in Scotland: What Does the President Own in the Northern U.K. Country?
President Donald Trump will arrive in Scotland on Friday, following talks with Queen Elizabeth II and British Prime Minister Theresa May.
Before becoming president, Trump, whose mother was born in Scotland, invested millions in two lavish Scottish golf courses: Turnberry in Ayrshire and Menie in Aberdeenshire.
In 2014, Trump purchased the Turnberry golf resort for an undisclosed sum from a Dubai-based company, announcing that he would invest some $260 million to transform the property. In 2008, the Scottish government granted the Trump Organization outline planning permission for the Aberdeenshire resort, which was estimated to cost about $1.3 billion.
Trump has said he removed himself from the operations of the Trump Organization by transferring control to his sons. However, he has gone against precedent by refusing to put the business into a blind trust, drawing significant criticism from ethics experts. Critics argue that Trump's business ventures, which extend across the world, create many conflicts of interest when it comes to economic policies as well as international relations.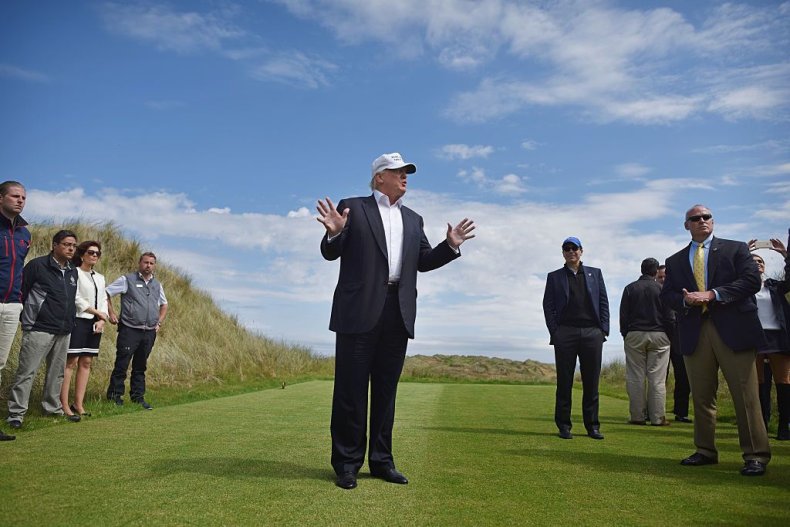 The Trump Organization's official website says that the Aberdeenshire resort "offers breathtaking scenery and an unparalleled test of golf."
"The course rises to find panoramic views of the sea and plunges into secluded valleys with each hole boasting distinct characteristics and unique features," the site says, describing the property as "the ultimate golfing destination." Designed by golf architect Martin Hawtree, the 1,400-acre property features a golf academy, a 22-acre driving range, a five-star hotel, a mixed-use residential community and 3 miles of sandy coastline.
According to 2017 reports, both properties have netted losses over the past few years. Bloomberg said last October that the Turnberry golf course is the Trump Organization's biggest international investment. Despite pouring millions into redeveloping the property, revenue fell by 21 percent in 2016. The Menie property saw revenues drop by 12 percent and losses increase by 28 percent.
In December, the Turnberry course also lost a controversial tax break from the Scottish government, The Guardian reported. Scottish Finance Secretary Derek Mackay was pressured to make the changes after it was revealed earlier in the year that the Trump property had kept more than $140,000 a year due to a business rates relief scheme.
Residents living near the Trump properties have also long complained about the president and his business practices.
"We've had a taste of Trump for 11 years. I wouldn't trust him with anything," Sheila Forbes, 70, told USA Today last August. Forbes and her husband have lived adjacent to Trump's Aberdeenshire resort for more than 40 years. After they refused to sell their property for an offer far below market value, the couple claimed Trump employees have constantly harassed them and even sabotaged their water pipes, leaving them without clean drinking water for five years.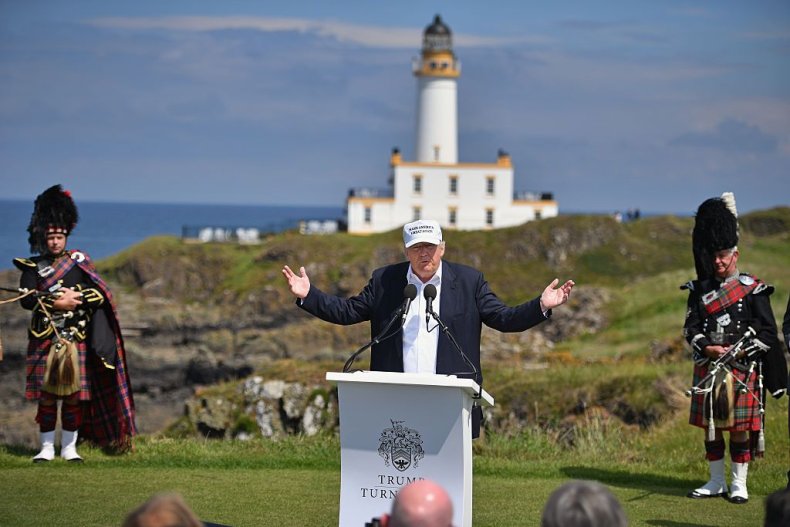 John and Susan Munro, who also refused to sell to Trump, told USA Today that his employees built a 15-foot-high bank of dirt on two sides of their half-acre plot, blocking their view of the area's iconic lighthouse.
For its part, the Trump Organization said it "vigorously refutes" such allegations.
It's also unclear where the funding for the Trump Organization's golf empire has come from. Golf writer James Dodson claimed that while playing golf with Trump's son Eric in 2013, he was told that Russians were bankrolling the family organization's golf investments.
"We have pretty much all the money we need from investors in Russia…. We've got some guys that really, really love golf, and they're really invested in our programs," Dodson quoted Eric as saying, according to Fortune.
While Eric was quick to dismiss the reports as "fake news," Dodson insists he accurately presented the president's son's comments.